If you had to choose between two doors, would you go with "average" or "beautiful"?
It's a situation none of us ever have to consider in reality, but it's a thought that comes up constantly in our heads: am I beautiful enough? In a new campaign, (just a month after a previous viral one called 'One Beautiful Thought'), Dove has released another movement about feeling beautiful inside and out.
Called "Choose Beautiful," the company set up two entry ways with the signs "average" and "beautiful" hanging over store doors in San Francisco, Shanghai, Delhi, London and Sao Paulo. With hidden cameras, we see women of all ages, sizes and ethnicity hesitate when confronted with the doors.
Story Continues After The Video
But in a world where women are constantly bombarded with definitions of what it means to be beautiful, a campaign like this will make you think twice the next time you look in the mirror.
Watch the video above to see the full campaign.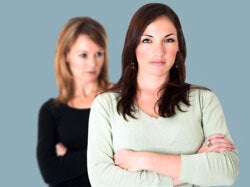 10 Ways to Boost Self-Esteem