Tim Hortons has been working on something chocolaty, and we are thrilled. The chain will be releasing brand new Nutella-inspired menu items as of April 15.
Yes, your favourite hazelnut chocolate spread is meeting with your favourite Timbit, and creating something sugary and wonderful. First reported by the Tim Hortons insider Ian Hardy on Insidetimmies.com, Hardy says there will be three new Nutella-infused items, including a chocolate hazelnut doughnut filled with Nutella (drool), a Nutella-filled pastry pocket (a square-ish Timbit) and probably our favourite, an option to put Nutella over your favourite in-house bagel.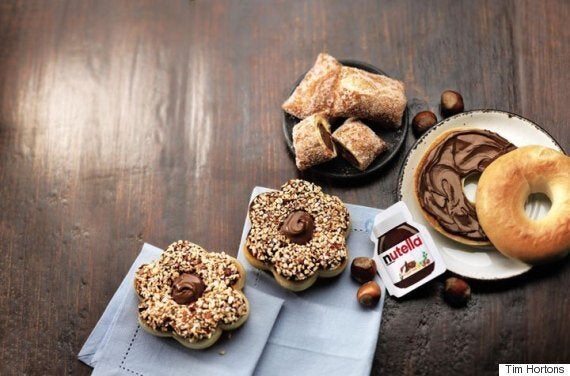 Now, while we do love the original chocolate glazed Timbit as much as the next person, we're just wondering why the coffee giant hasn't introduced this collab earlier.
But in meantime (until June 9, anyway), let us know what you think of the new flavours when you try them!