It feels great to be reunited with the cast of "Twin Peaks" – but these aren't the circumstances fans hoped for.
Cast members of the bizarre series, which celebrated its 25th anniversary on Wednesday, feature in a video that appeared on actress Mädchen Amick's WhoSay page on Tuesday.
In it they plead for co-creator David Lynch to come back to helm the show's reboot after he announced he had left the Showtime project over money.
The video shows actors including Sheryl Lee, who played murdered teen Laura Palmer (we really DID see her again in 25 years), Dana Ashbrook, who played her tough-guy boyfriend Bobby Briggs, and Sherilyn Fenn, who played Audrey Horne.
Each of them talked about what "Twin Peaks Without David Lynch" would look like. Many of them made references to the series.
And they're not the only ones who are working to bring Lynch back.
A Facebook fan group called "Twin Peaks: 25th Anniversary" has been circulating the following image in an effort to convince him to return.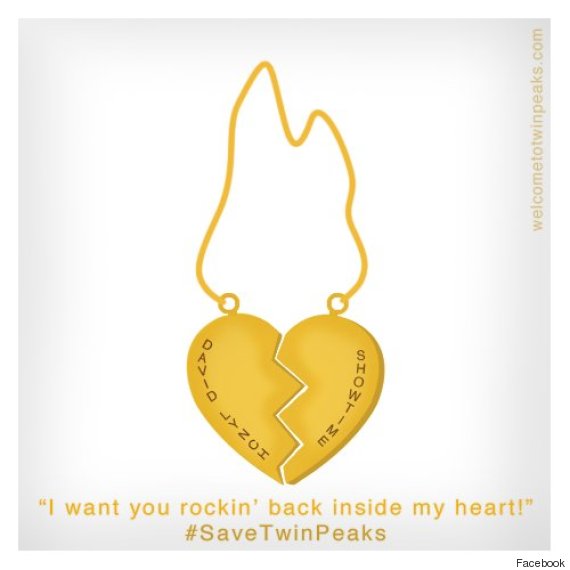 "Rockin' Back Inside My Heart" is a song by Julee Cruise that was featured on an episode in which Laura Palmer's killer was revealed.
One user on the Facebook page also suggested launching a Kickstarter campaign to raise the money Lynch would need to do the show the way he wants to.
It is possible that the "Twin Peaks" revival could still go forward. Showtime has said it is trying to work something out with him. He and co-creator Mark Frost have also written a script for the show.
It's just tough to believe that the reboot would be as strange, or as compelling without Lynch driving the action from behind the scenes.
In other words: David Lynch, please come back!
Like Us On Facebook

Follow Us On Twitter

ALSO ON HUFFPOST:
Photo gallery

What We Learned From Twin Peaks

See Gallery