When it comes to food on Instagram it's tough to beat chefs. We're glad that some of Canada's best chefs can find the time from running their kitchens to snap a few truly mouthwatering photos. Here are some of our favourites.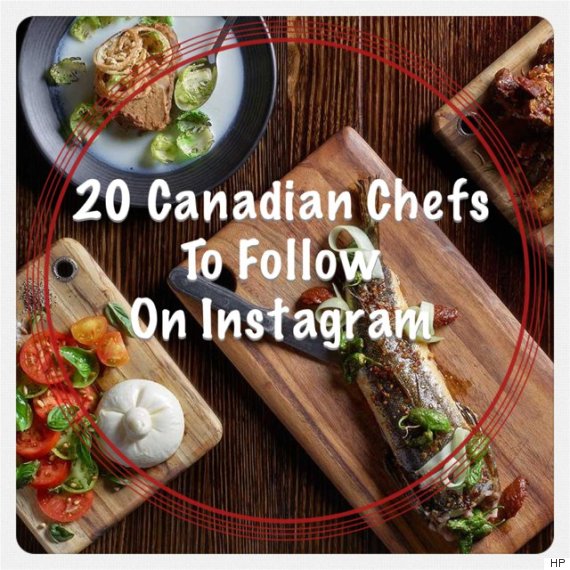 WHO: Jeremy Charles
Chef Jeremy Charles runs the kitchen at Raymond's, one of Newfoundland (and Canada's) best restaurants.
WHO: Todd Perrin
There's a table of cake! Why wouldn't we follow this Newfoundland chef (who was once a beloved Top Chef Canada contestant)? He runs the Mallard Cottage in Quidi Vidi Village, near St. John's.
WHO: Jesse Vergen
Talk about field to table. New Brunswick chef Jesse Vergen also hunts. He's the Executive Chef at Saint John Ale House, as well as the owner of Smoking Pig Real BBQ.
WHO: Antonio Park
A self-described "messed-up Latino with kimchi in his blood", Montreal's Chef Park of Restaurant Park, Park Market and La Lavanderia is obsessed with sushi and sashimi.
WHO: Chuck Hughes
One of Montreal's best known chefs (you should follow Joe Beef's David McMillan too), Hughes runs Garde Manger and Le Bremner. Hughes' right-hand man, Danny Smiles also has some delicious snaps.
WHO: Derek Dammann
A Bruins fan in Montreal? Thank goodness he's a pretty good chef (at Maison Publique).
WHO: Jason Bangerter
Working at Langdon Hall, which is consistently rated as one of Canada's top restaurants, Bangerter gives you a sneak peek into the kitchen.
WHO: Grant van Gameren
Toronto's Bar Isabel and the newly opened Bar Raval are two of the city's most delicious and breathtaking restaurants.
WHO: Scott Vivian
Chef and co-owner at Toronto's Beast restaurant. Sorry vegetarians.
WHO: Rob Gentile
A peek inside Buca, one of Toronto's best Italian restaurants.
WHO: Dave Mottershall
Owner of Toronto's Loka Snacks, this chef's incredible composition and seriously mouth-watering dishes make him a must-follow.
WHO: Nathan Guggenheimer
The co-chef and butcher at Saskatoon's Ayden Kitchen & Bar and the newly opened Home Slice Pizza Shoppe puts up pictures of spectacular dishes that almost — almost — rival his epic beard.
WHO: Edgar Gutierrez, Chris Sills, Daniel Braun
The trio behind Edmonton-based Tres Carnales. Mouth-watering tacos in Edmonton? Why not!
WHO: Dave Bohati
Chef Dave Bohati's Market is one of Calgary's best restaurants.
WHO: Connie De Sousa
Part of the team that runs Calgary-based meat mecca Charcut.
WHO: JP Pedhirney
This Calgary chef, who was most recently at Muse, is a master of plating.
WHO: Brian Skinner
No one makes vegetables look as good as Vancouver chef Brian Skinner, formerly of the Acorn.
WHO: Daniel McGee
A little bit of France right in Vancouver's Kitsilano neighbourhood, Chef McGee runs the kitchen at Au Comptoir.
WHO: Angus An
Chef An cooks Thai with a modern twist at Vancouver's Maenam.
WHO: Josh Gale
Amazing shots from this Masterchef Canada contestant at Nicli's Next Door in Vancouver.
Did we miss any? Share your favourite chef on Instagram in the comments below.