Windsor, Ontario: it's a working-class city known for the manufacturing industry, the Ambassador Bridge and a Caesars casino.
And soon, it could play host to the world's largest photo mosaic, featuring Nicolas Cage's face.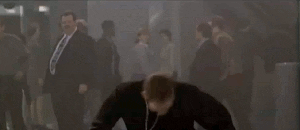 The project is the brainchild of Windsor native Thom Malone, who wants the city to become famous for something more than "the crappy things it's known for," he told CBC News.
The city has long been the focus of reports about a sluggish economy and high unemployment.
Malone has therefore begun a Kickstarter campaign that seeks $52,000. It would go to building a 21,646-square-metre mosaic of the "Face/Off" star's face, made up of 180,000 unique photos.
His aim is to make a Guinness World Record for biggest photo mosaic, which is currently owned by Transitions Optical with 176,000 images.
So just imagine a version of this about the size of some soccer pitches, and you'll have an idea what people are in for, if it succeeds.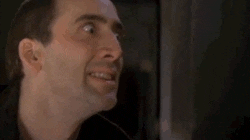 "If aliens were to ever come to Earth, they would need to know who our ambassador is," Malone wrote.
"How best to show aliens that we want peace, but also not to mess with us than with a giant mosaic made up of a million faces to create one giant Nicolas Cage face?"
People who back the Kickstarter are asked to submit a photo of the actor to help make up the mosaic.
Backers will receive gifts with the actor's face such as a necklace (a "necklace Cage"), a coffee cup or a deck of playing cards.
Anyone who donates $5,000 or more will be personally flown to Windsor and put up in a hotel to see the mosaic itself.
It isn't yet certain where the mosaic will be located, should the Kickstarter succeed. But Malone hopes to have it ready for Labour Day.
It would make one heck of a tourist attraction ... and one very big, bold, frightening statement to any aliens who wish to fly over Windsor.
The campaign had drawn just over $21,000 in pledges as of Thursday afternoon.
Like Us On Facebook

Follow Us On Twitter

ALSO ON HUFFPOST: