But the private notes inside those diaries also reveal the picayune details of the pedestrian life of a Canadian political celebrity — his fragility, his foibles and also his personal touch.
- Analysis: Mike Duffy's the one on trial, but blame and shame abound
The records of take-out dinners from suburban Swiss Chalets, the care of the family dog, the purchase of a used Toyota Camry all speak to the plainness of the "Ol' Duff's" life, one that his fancy suits and flashy cuff links seemed designed to counter.
But the diaries do more than offer a peek behind the carefully constructed facade of Duffy's public persona, they reveal a man far more complicated, and perhaps tragic, than the gregarious broadcaster known to Canadians through television.
Duffy's words offer insight on a man who seemed near desperate to please and be popular; to be useful to his new bosses, while trying to maintain ties to his old broadcasting friends.
There were memos, about strategic communications, for instance, delivered to the prime minister, advice about Senate appointments whispered to Stephen Harper's wife, Laureen, and emails offering thoughts and analysis to key Conservatives.
"Telecon Jason Kenney re: Gossip on Ruby Dhalla," is one early entry, referrring to a former Liberal Toronto-area MP.
There were also apparently regular conversations with reporters at CTV, where Duffy had only recently worked.
The diary suggests Duffy took care of many of his acquaintanceships, attending wakes and funerals, and sending flowers or calling when he heard someone had fallen ill, lost a loved one or suffered some other calamity.
"Call Fabian Manning in St. Bride's re collission [sic] with moose etc.," he wrote on May 22, 2011.
Dinner with follow-up reports
Duffy is seen to be intervening on the behalf of friends looking for work or other assistance through contact with government departments, cabinet ministers, the prime minister and others.
But that fealty, or loyalty, was not universal. It seems based on a pragmatic accounting of which ties mattered most, now.
Duffy seems to admit to sending private information about the political future of long-time Liberal MP Irwin Cotler to the prime minister's chief of staff, Nigel Wright (later the author of that $90,000 bank draft).
"Write Nigel re: political future of Irwin Cotler," he wrote in one entry, three and a-half hours after this entry:" "Duty entertainment — Mamma's — dinner with Irwin Cotler on his political future."
It's hard to imagine the Liberal Cotler going to dinner with Duffy had he known his remarks would be reported back to the Langevin Block before the dessert spoons had been cleared off the table.
But as one of Duffy's other dinning companions might have said in his defence: "Ya dance with the one that brung you."
Indeed, Duffy records a lunch with former prime minister Brian Mulroney, and a few others, on March 13, 2012 at the tony Rideau Club.
The remarks are blacked out with the scratch of a marker but are clear enough to see that Mulroney's gang was critical of the current occupant of the PMO, who, Duffy wrote, needed to do "'something' big beside the 'accounting of dealing with the deficit.'"
That critique apparently found its way up the chain too: "Write note to PMSH re: lunch with MBM," Duffy writes.​​
Duffy appeared to be worried about his health, which the diary suggests was troubled. He had heart problems, diabetes, sleep apnea, a bad back and received arthritis treatments, which he complained about.
He worried about his weight, and for many months recorded it at least weekly as the numbers swung about, along with blood sugar numbers.
This was obviously an embarrassment for Duffy. The print-out of the diaries submitted in court had some lines blanked out. But there was this: "MD scarfs pint of Hagan Daaz [sic]. Yikes"
The diaries reveal Duffy and his wife Heather had regular movie nights together and often got together with a couple called the Riopelles.
Howard Riopelle's name crops up again and again in the diary as a confidant and a regular at Duffy's pub nights. Riopelle was a lobbyist who also long ago played hockey for the Montreal Canadiens alongside Maurice "The Rocket" Richard.
There were many nights out, and not just with "The Ripper," as Duffy called his friend. And some of them may have proven difficult for Duffy, who has long been known for his love of revelry.
On June 17, 2009, Duffy records a public appearance at the "PEI lobster extravangza [sic]," at the Westin Hotel in Ottawa.
The next day Duffy missed a meeting of the Senate forestry committee. "Indesposed [sic]," he writes.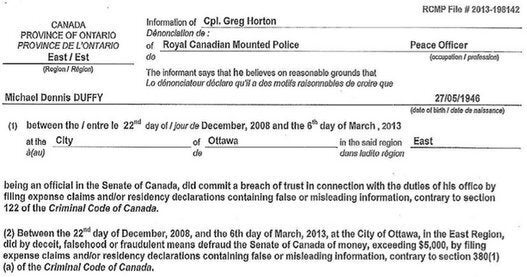 The Charges Against Mike Duffy