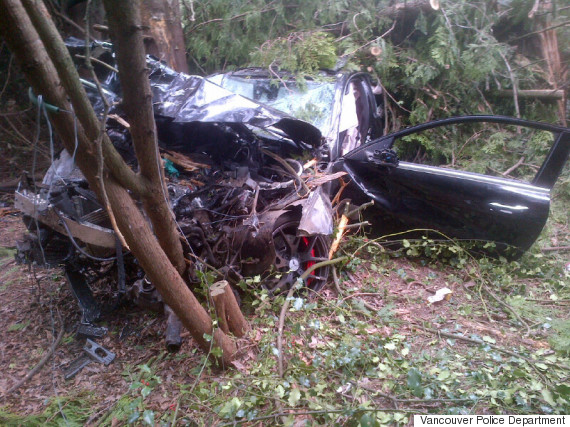 A teenager was seriously injured when Mercedes he was in crashed at a speed that could have reached 180 km/h in Vancouver's Kerrisdale neighbourhood.
The car was heading westbound on Southwest Marine Drive in Kerrisdale around 3 a.m. Sunday when it smashed into someone's front yard, said Vancouver police in a news release. It was nearly an hour before anybody noticed the mangled vehicle wedged against a tree.
The teen passenger was pulled from the wreckage and taken to hospital. He remains in intensive care with head trauma, facial fractures, brain swelling, a fractured arm, and possible eye damage, said police.
The driver was treated in hospital and released the next day.
The speedometer on the Mercedes AMG was stuck at 180 km/h, which may indicate how fast the car had been going when it careened off the road, according to CTV News.
Vancouver police Const. Brian Montague says the accident is a stark reminder for anyone behind the wheel.
"This kid was just a passenger in the car, but he ended up with very serious injuries," Montague said in a statement. "Drivers need to remember that they are responsible not only for themselves, but for their passengers and everyone else on the road."
Police say a decision on any charges won't be made until after an investigation.
Vancouver Car Crash, April 12, 2015