If you're a Drake or Madonna fan, or scrolled through your Facebook feed this a.m., you've probably heard the news that the 56-year-old singer laid a huge smooch on the Canadian rapper during Coachella.
Drake, who was performing "Madonna," from his recent mix tape, had the legendary pop star to join him on stage as she sang verses from "Human Nature," "Hung Up" and "Bitch I'm Madonna."
Choreographed or not (but we definitely think it was staged), the kiss threw off a lot of people online. Several images and video of the kiss shows Drake initially holding onto Madonna's head, but then after an awkward struggle and repulsed look, he said "Holy shit, what the f**k just happened there," and laughed it off.
While some people found it hilarious, or called out how creepy it would be if this was the case of an older man kissing a younger female star, Madonna was also labelled as being "filth," a "cougar," and a "crazy old woman."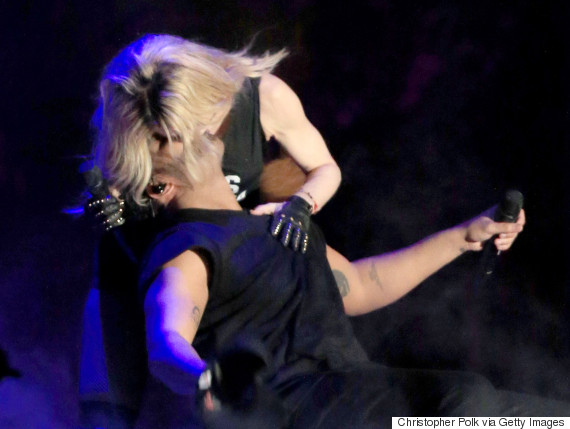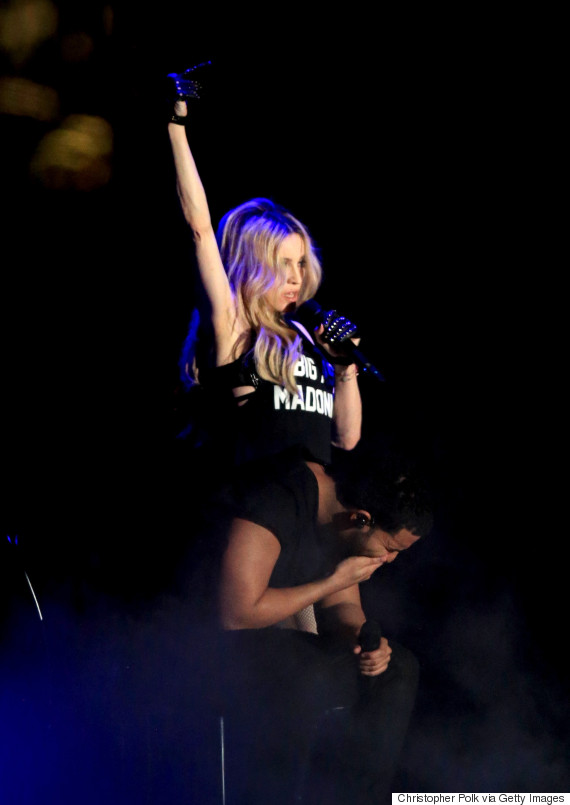 Some people online focused pretty negatively on Madonna's age and looks, while others were quick to point out the shaming — which even includes feeds of her being called a slut on Twitter.
I'm so mad Madonna made out with Drake at coachella.....like no you haggardly old woman. Go find Hugh Hefner pls ✋

— AriHELL (@ManHandleMeMerm) April 13, 2015
Madonna Kissing Drake Coachella 2015! (HD) Why does this old woman continue to try and sell sex? Gross!: https://t.co/2grgOlYJCG

— JC Facts (@kiddjaycee) April 13, 2015
Why the fuck is everyone shaming Mandona for owning her sexuality and snogging Drake. If Drake kissed Madonna reactions would differ.

— Julia (@jjustthoughts) April 13, 2015
All the Madonna-shaming right now is super lame. Drake looks way into it at first and then clearly just couldn't handle the Madge.

— Anneta K (@bettanneta) April 13, 2015
Last week, New York magazine was ridiculed after a writer labelled the singer as "old and tired" (in a headline that has now been changed) after the release of her video, "Ghosttown."
According to NewNowNext.com, to joke about Madonna's age is just tiresome.
"Madonna is 56. She's doing what she loves. She's vital and creative. She's a legend that's blazed a trail for every other artist who has and will come after her. We should all be so lucky at ANY age to live a life like her's."
So what does Madge have to think about all this? Well, this was she posted on Instagram this morning.
Also on HuffPost