We've heard of firefighters rescuing cats stuck up in trees.
But a potbellied pig in a garage? That's a new one.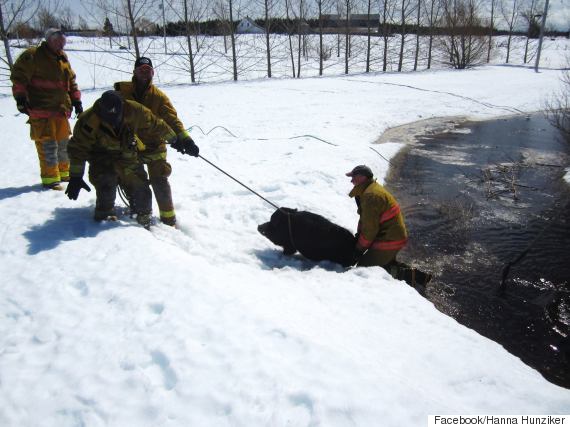 Firefighters with the Tatamagouche Fire Department in Nova Scotia were called Saturday to the home of Brule resident Hanna Hunziker, The Chronicle Herald reported.
Pourquoi, her 200-pound, Vietnamese potbellied pig, became stranded in her garage due to flooding, after snow began melting and the building's sump pump stopped functioning.
Firefighters arrived and found a flooded garage almost completely under water, with the pig perched on some high ground inside his enclosure.
They tied a rope around the porcine rescuee and pulled him out through water that was about four feet deep, said Metro Halifax.
And though the members were trying to save his life, Pourquoi wasn't enthusiastic about having to move.
"He didn't want to go," firefighter Mark Langille told CBC News. "He did a lot of squealing."
Once the pig was out of the garage, Pourquoi still had to clear a six-foot snowbank. He didn't appreciate having to mount that either. But eventually, he reached Hunziker's deck and was coaxed inside the house with some food.
Hunziker was recovering from surgery and spending her first winter without her husband, who died last year, so she was deeply appreciative to the firefighters who saved her pet.
An excavator dug a trench to clear the water off her property the following day, said Metro News.
Check out more photos of Pourquoi's rescue, and of Hunziker's flooded property:
Firefighters Rescue Potbellied Pig from Maritime Flooding