CP
It is now less safe to breathe in Edmonton than it is in Toronto.
That's according to research by advocacy group the Canadian Association of Physicians for the Environment (CAPE), which showed particulate matter (PM2.5) readings in Alberta's capital have outpaced Toronto's by 25 per cent, despite having one-fifth the population.
PM2.5 are particles smaller than 2.5 micrometres in diameter.
When humans breathe, they can take them into their lungs and the bloodstream.
The particles affects people's cardiovascular and respiratory health, and they have also been linked to heart attacks and lung cancer.
CAPE's report found that Edmonton's air pollution levels have twice reached above Canadian Ambient Air Quality Standards since 2010.
And one of the biggest reasons, said CAPE spokesman Dr. Joe Vipond, is coal-fired electricity generation.
"Edmonton's fine particulate matter problem is nitrates and sulphates," he said in a news release. "The largest emitters of these pollutants in the capital region are coal-fired electricity plants upwind from the city."
CAPE notes that Alberta's coal generation jumped 13.4 per cent in 2014 compared to 2013, reaching the second-highest amount in its history as two more coal units came online, and in the same year that Ontario phased out its own plants.
Coal-fired electricity in the Edmonton area is responsible for as much as 69.3 per cent of sulphate emissions, and 43.8 per cent of nitrates in the air.
Meanwhile, Ontario didn't have a single smog alert in 2014, for the first time in over two decades.
Coal generation, however, isn't the only factor affecting Edmonton's worsening air quality. Other factors include an increasing population and more travel by vehicle, said a briefing note.
The following two charts compare the concentration of PM2.5 as coal plants were opened or shut down near Toronto and Edmonton: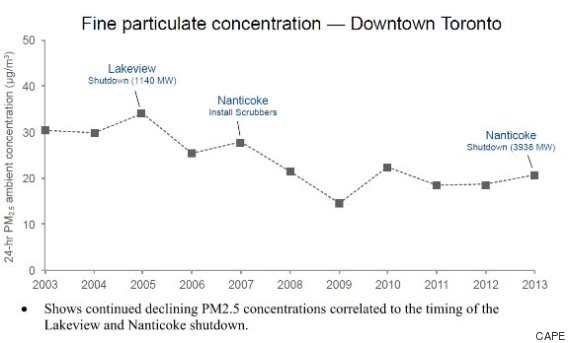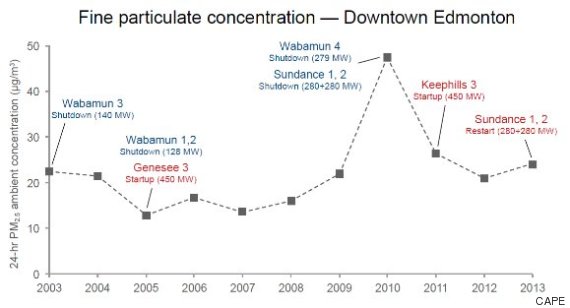 Emergency physician Dr. Brian Rowe told The Edmonton Journal that poor air quality is often reflected in the city's hospitals.
"There is no safe level of exposure and we should be trying to reduce this pollutant as much as possible," he said.
Like Us On Facebook

Follow Us On Twitter

ALSO ON HUFFPOST:
Photo gallery

Alberta's Best Images Of 2014

See Gallery