Jemayel Khawaja, the managing editor of THUMP, snapped the photo and posted it on Twitter:
Naturally, the Twitterverse was horrified by the shirt.
But as THUMP's Michelle Lhooq points out, this shirt "opens up the floor for us to confront a pervasive issue," and that is sexual harassment at music festivals. The author of the post describes matters of assault in club culture and the concert scene as "horrifying and mundane."
"Women at festivals are still made to feel uncomfortable and violated all the time -- whether it's some guy groping you as he brushes by in a crowd, making unsolicited comments about your body, or taking your enthusiastic dancing as an open invitation to touch you without consent," writes Lhooq.
"The shock and outrage that has exploded online over the 'Eat Sleep Rape Repeat' T-shirt is exactly how we should react. But there's a reason why that guy felt comfortable enough to wear it to a festival -- he knew that most people would 'be chill' about it, and few would dare to call him out to his face."
And Lhooq has a point -- the man likely wore the shirt knowing that no one would call him out for it in person. But that definitely doesn't make it okay. Nothing about the shirt is clever or funny, and whoever made/sold it should probably think twice next time.
What do you think? Let us know in the comments below.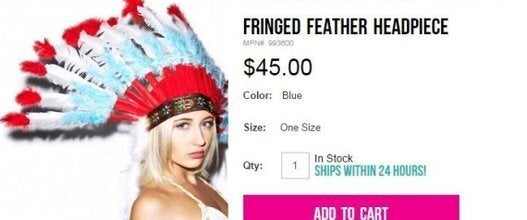 Most Offensive Products From Retailers