Emma VandenBrink, the daughter of Canadian wheelchair athlete Rick Hansen, hopes that sharing her aching account of losing her baby will help others through stillbirths.
VandenBrink, who had been documenting her first pregnancy on her blog, posted about her little boy who was due earlier this month.
"This is not the story I had been drafting in my mind over the weeks leading up to our due date," she wrote. "I was imagining excited phone calls, a joyous labor, and my crying baby on my chest at the end of it all. But this story still needs to be written and shared as it would have had it played out to my most perfect plan. For though he was born still, he was still born. This is for you my darling Reid."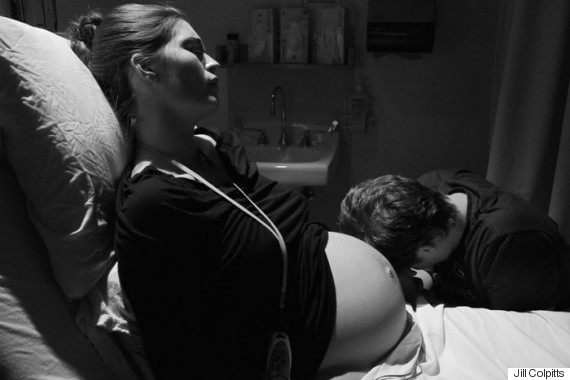 Emma Vandenbrink and her husband Aaron at the hospital.
At 39 weeks and six days, VandenBrink realized she wasn't feeling the baby moving. She and her husband, Aaron, went to the hospital where she went through several routine tests, ending with an ultrasound.
Then the doctor told her: "I have the ultrasound focused on his heart now. Do you see that? It's not moving. And there's no red and blue to signify blood flow. I'm so sorry, but your baby is dead."
VandenBrink wrote: "All I remember next was collapsing into Aaron's arms as we both sobbed over my belly. Our son was dead and there was this overwhelming pain washing over me like I'd never felt before."
She chronicled the next several hours before her contractions started and she had to deliver the baby.
On April 4 — VandenBrink's due date — her "beautiful son, Reid Richard VandenBrink was born sleeping," she wrote.
"We spent the next moments poring over every flawless inch of his strong body. Reid was the perfect mixture of us both. Aaron's nose, head shape, and long fingers and toes — he would have been tall. My eyes, dimpled chin, and shock of black hair. I know I'm biased but he was the most beautiful baby I'd ever seen. These memories are both the happiest and the most painful I'll ever know, and there'll never be enough of them."
Doctors found out that Reid's death was caused by a rare knot in his umbilical cord that might have been caused when he did a few somersaults in the womb. The tiny knot tightened as the baby dropped in the birth canal, cutting off his blood and oxygen supply.
"My heart felt heavy knowing what had happened," said VandenBrink, who is a model and businesswoman. "On one hand it brought a small bit of relief to know it wasn't something we did or didn't do. Knots are undetectable. But that same knowledge brought tremendous grief through the realization that his passing from this knot happened completely out of our control. We couldn't have protected him from this."
VandenBrink's blog has been flooded with messages of sympathy and support. Other parents also shared their memories of stillbirths, which she said has been a "comfort."
'Something we can and ... should talk about'
Dr. Dorothy Shaw, the vice-president of medical affairs at the BC Women's Hospital said VandenBrink's public story helps families who may feel awkward in their grief, according to CBC News.
"This is something we can and we should talk about it," Shaw said.
On Thursday, the VandenBrinks said in a statement: "We're so glad this opened up the topic for discussion, because talking about it helps our healing process. We wrote and posted the story of Reid's birth because we felt it was important to share. We wanted people to know him and for his impact to continue beyond his short time with us."
Emma's father shared her original blog on his Facebook page, writing "Sending all my love to my daughter Emma and her husband Aaron, who have shown incredible strength and grace during this heartbreaking loss."
Hansen trekked around the world in his wheelchair in 1985 and raised $26 million for spinal cord research by the time his Man in Motion World Tour ended in 1987. He later started the Rick Hansen Foundation, which advocates for people with disabilities.
He lives in Richmond, B.C., where he and his wife raised their three daughters. \
"Little baby Reid will be loved and remembered forever," wrote Hansen about his grandson.
Like Us On Facebook

Follow Us On Twitter
ALSO ON HUFFPOST: