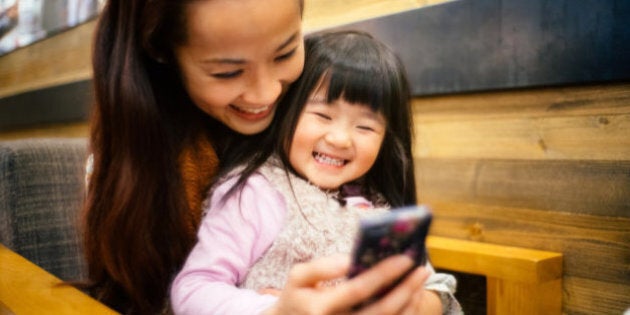 Sharenting is the new term used to describe parents who post information about their family and kids online. A national poll says more than half of mothers and a third of fathers discuss their child's health and parenting on social media. Basically, online sharing makes parents feel as if they're not alone. However, there is a downside.
"By the time children are old enough to use social media themselves many already have a digital identity created for them by their parents," says Sarah J. Clark, M.P.H., associate director of the University of Michigan C.S. Mott Children's Hospital National Poll on Children's Health.
"Sharing the joys and challenges of parenthood and documenting children's lives publicly has become a social norm so we wanted to better understand the benefits and cons of these experiences. On one hand, social media offers today's parents an outlet they find incredibly useful. On the other hand, some are concerned that over-sharing may pose safety and privacy risks for their children."
Sharing a child's achievement online is a well understood phenomenon, but what about protecting and guarding a child's dignity and caring for their privacy? In an interview with the Irish Examiner, Mary Aiken, adviser at the European Cybercrime Centre, recommends caution.
"Parents or caregivers should be very aware of cyber-security and cyber-safety issues, when posting images of their children online. Photographs taken with digital devices can contain hidden meta data (time, date, location, device etc). This data can be cracked and may place the child at risk," says Aiken.
According to How-to-geek.com, parents can remove the metadata added to photographs. The major concern for parents should be the geolocation data, which can be prevented by simply turning off your location settings in your camera or camera app. Other options of removing the metadata on your images can be found here.
According to the the University of Michigan poll, three-quarters of parents think another parent has shared too much information about their child online. Parents also recognize that there can be downsides to sharing too much information about children on social media. For example, "over-sharenting" may occur when details shared on social media are too personal, or are potentially embarrassing to the child when he or she is older
"Parents are responsible for their child's privacy and need to be thoughtful about how much they share on social media so they can enjoy the benefits of camaraderie but also protect their children's privacy today and in the future," said Clark.
Mashable offers sensible tips on how to avoid oversharing on social networks. Although they seem like common sense, the list can serve as a reminder as well as a checklist :
- Frequently update your privacy and location setting regularly
- Share information with your real friends only
​- Turn off instant sharing from apps that track your activity
- Keep in mind that social networks are always making changes that affect you, downloading apps like BlissControl can help you manage your social networking settings.