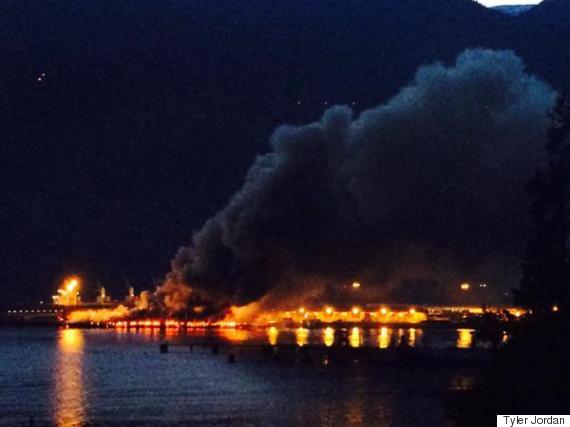 Wow!! Burning Ship at the Squamish Terminals.

Posted by Christina Forsyth on Thursday, April 16, 2015
A massive fire on the east dock of the Squamish Terminal sent huge plumes of thick smoke over the district on Thursday night.
Crews from Squamish, West Vancouver, and Vancouver, as well as a fire boat, spent hours putting out the blaze, which started around 6:30 p.m.
"There was a significant amount of billowing and dark-looking smoke coming off the ship at the terminal," Mayor Patricia Heintzman told CKNW. "It's pretty smelly, pretty toxic smelling."
She said the noxious smell was coming from creosote-treated pilings on fire.
Squamish officials said they were waiting for confirmation of the smoke's toxicity levels from Vancouver Coastal Health. There was no evacuation order, but they said, "As a precaution, residents should 'shelter in place' and stay indoors as the air quality is poor in many parts of the valley."
Heintzman said staff at the terminals all got out safely and no injuries have been reported.
The timber-carrying Star Atlantic ship — originally thought as the source of the smoke — was moved away from the terminal, reported CBC News.
Squamish is about 60 kilometres north of Vancouver.
This is nuts! #SquamishFire pic.twitter.com/c46A7MTpU1

— Amrιτ Tεhαrα (@AmritTehara) April 17, 2015
Like Us On Facebook

Follow Us On Twitter
Also on HuffPost