Another day, another controversy for the Wildrose Alliance Party of Alberta.
Yesterday, Calgary candidate Russ Kuykendall was sent packing after it emerged he had written a blog post criticizing a gay pride event that was held in a Catholic church hall.
Today, Drumheller-Stettler candidate Rick Strankman is apologizing after a poster advertising an "Old Fashioned Pie Auction" encouraged people to "Bring Your Wife's Pie."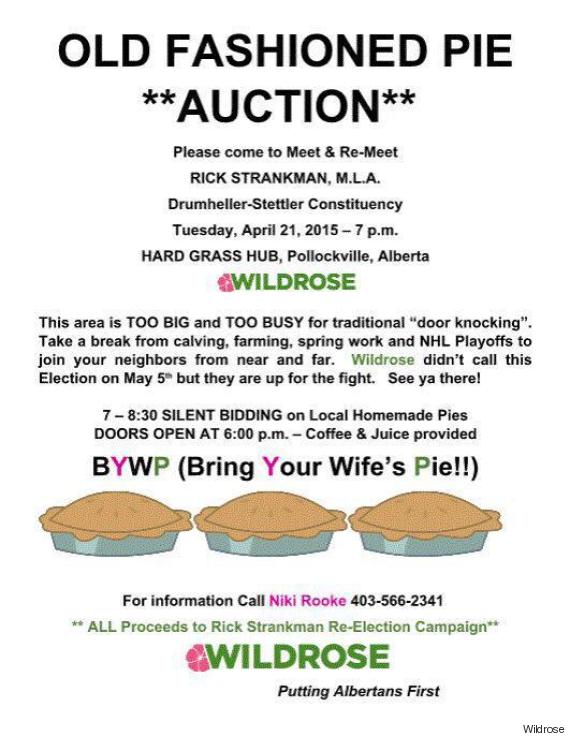 Strankman tweeted an apology for the poster, blaming it on volunteers.
"I apologize for our poster. It was posted by our volunteers through my account. As soon as I saw it, I asked them to take it down #abvote"

— Rick Strankman (@RickStrankman) April 16, 2015
But that hasn't stopped it from drawing accusations of sexism and mockery on social media.
Mr. Strankman, I don't think it means what you think it means... #bringyourwifespie#abvotehttp://t.co/29J5fzEyCtpic.twitter.com/buXPrYsqMp

— Meghan Potkins (@mpotkins) April 16, 2015
What does Rick Strankman have against cake, cookies, brownies, etc. anyway? Bakedgoodsauvinest!

— CatelliNQU/IT Monkey (@Catelli_NQU) April 16, 2015
BRING YOUR WIFE'S PIE! Come on, that can't be for real. https://t.co/ZxNn9ZqbFu

— Emmett Macfarlane (@EmmMacfarlane) April 16, 2015
It also helped generate the hashtag #BakeofFire, which only produced more hilarious tweets.
Is this for real? If so, 1950 just called... #abvote#BYWP#bakeoffirepic.twitter.com/gTarYY0J7U

— Emily Woods (@EmilySPWoods) April 16, 2015
And in other news Royal Tyrrell Museum finds evidence of new dinosaurs in DrumhellerStettler courtesy of @RickStrankman#abvote#bakeoffire

— Natasha Soles (@NatashaRSoles) April 16, 2015
Only my wife's pie? Or can I bring my lesbian, aboriginal neighbour's pie too? I'm just asking cause it's not 1953... #BakeOfFire#BYWP

— Dan St. Pierre (@stpierredan) April 16, 2015
@stpierredan Dan, I'm gonna suggest something radical here- you can bake your own pie! Despite rumour, men can make pastry too! #BakeofFire

— Natasha Soles (@NatashaRSoles) April 16, 2015
@ScreamQueenB@janelleaker@frndsWObnfts@baconhound@cspotweet@Terahj Alternate event title suggestion. #bakeoffirepic.twitter.com/74BPowHwuC

— Jason Halbauer (@JasonHalb) April 16, 2015
#wrp doomed as #pcaa troll uncovers #bakeoffire Pie in the sky hopes? Baked idea? Pied and proven strategy? We shall see #abvote#ableg

— Question Everything! (@RickNewcombe) April 16, 2015
Here are some more tweets posted under the #BakeofFire hashtag:
Like Us On Facebook

Follow Us On Twitter

ALSO ON HUFFPOST: