Charlize Theron is living a "teenage dream" with beau Sean Penn.
In an interview with Esquire for her May cover story, Theron, 39, gushed over Penn, telling the magazine, "He's hot. He is hot. How do you say that in an interview? You're a forty-year-old woman sounding like a 16-year-old."
And it turns out no one is more surprised by the relationship than the couple themselves.
"If somebody had said to me, 'This is what it will be,' I would've said, "F--k off!.'" The Oscar-winning actress revealed in the interview.
The two love birds have been going strong for more than a year and have been close friends for 20, bonding over their mutual passion for film-making and philanthropy. But neither star saw the relationship coming.
"I think we're both finding ourselves at this moment in our lives kind of shocked. Both of us." Theron said.
Penn, 54, is also smitten with Theron, telling Esquire, "To run into somebody now who you care about is a much more passionate, deeper, truer and – God! – a much happier feeling."
Rumours have been circulating that Penn and Theron were secretly engaged in Paris last November, and that a wedding can be expected in the near future. And though Penn (who has been married twice before to Madonna and actress Robin Wright), said he would be open to marriage again, he has remained tight-lipped about the alleged engagement. Theron also told Esquire she is in no rush to tie the knot.
"The marriage thing is always so strange to me. I love the possibility of anything, but I'm really enjoying myself and the everyday moment, and how that coincides with my son and my life and my friends."
The May 2015 issue of Esquire hits newsstands on April 21, and you can catch Theron starring in Mad Max: Fury Road on May 15.
Until then, check out the video above to hear what else Theron had to say about her darling Penn.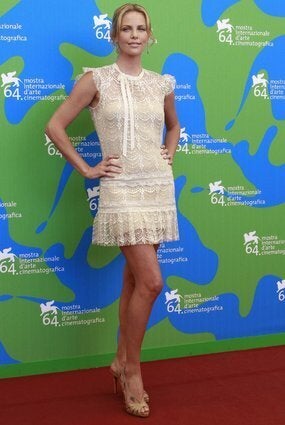 Sean Penn Charlize Theron