This week, we all wore shoes. And while I'm not privy to your choice of footwear over the course of the winter, it's safe to assume that at no point during the hardest three months of our lives, we all wore combinations of "whatever was warm" and "I don't care how I look, so leave me alone."
Which is fair. But that time has passed, and with warm weather and hope, we have something even more exciting: options. And despite some of those options prompting knee-jerk reactions and/or cries of "hell no!" we're still in their corner.
Here's our list of spring/summer pieces that deserve a chance.
(Story continues below slideshow.)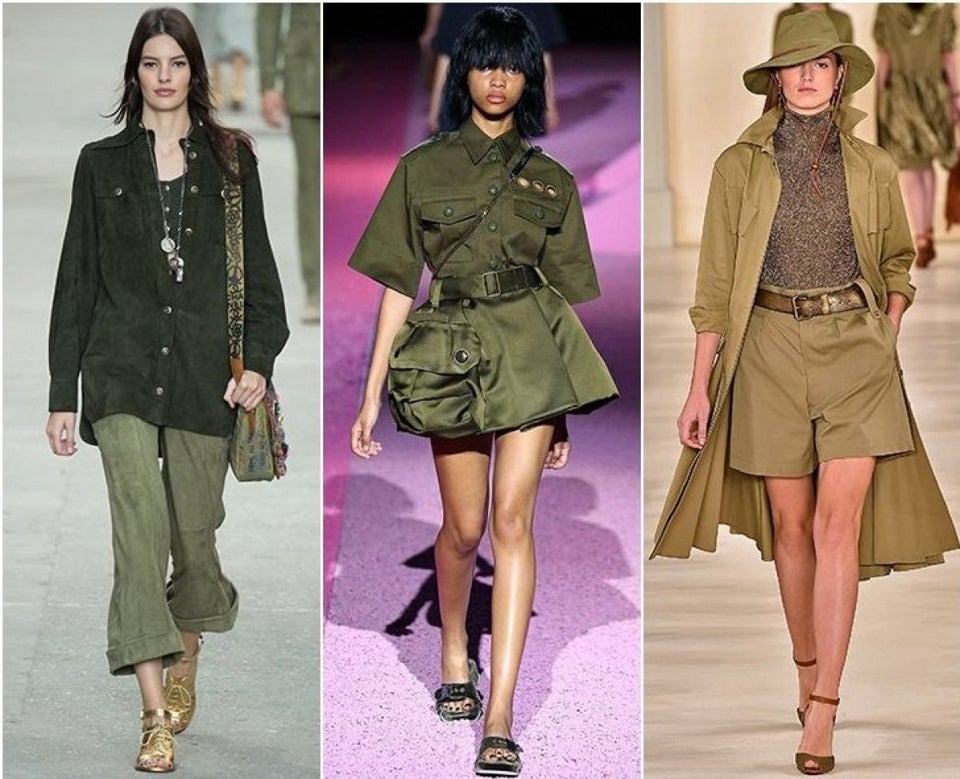 Top 20 trends for Spring/Summer 2015
Culottes seem scary. They seem like the generous cousin of the capri pant, who is controversial on their best days -- let alone when they're wider, looser-fitting, and usually printed. But where the capri fails, the culotte succeeds: first, unlike the snugness of its counterpart, culottes (as seen in collections by Celine and J.Crew) allow for wind distribution, which matters greatly in warm weather. Second, they're just early-2000s enough that you can bask in gaucho pant memories without opting for a super-low rise.
Despite Fran Lebowitz's claims that yoga pants are ruining everything, 2015's jogging alternative are the answers to your lazy-ish prayers. Brands like Ashish broke from the cotton-blend traditional and donned styles with sequins and patterns, while Rachel Comey's resort collection proved you could dress up joggers with a button-up blouse and sandals (versus a hoodie and flip-flops like in university) to justify wearing them out. (Even though for the record, you can always wear out jogging pants and don't let anybody tell you not to.)
That's right, friends: baggy pants. The pants we swore we'd never wear again (even after seeing how tailored they can look courtesy of houses like Balmain). But that's the thing about this trend: provided you wear a fitted top, anyone can wear them. Like regular jeans, you, me, and that person sitting next to you can wear a wide-legged style -- you just may have to opt for a higher or lower waist depending on your length. (And don't you dare tell me an elastic waistband isn't a gift in and of itself.)
Absolutely I'm going there. To start, they're not trucker hats, which mean they're timeless and, well, not trucker hats. Second, they offer a reprieve from the bucket hat, a trend we never thought we'd see again (until we did, and it was too late). The good news is, you can sway from the athletic sect that's come to define baseball hats thanks to brands like Aritzia, who offer faux-leather choices. Now, you don't have to pledge allegiance to a particular (or any) sports team. You're welcome.
The rumours are true: we didn't leave these back in 2014, and I'm not sorry about it. But the good news is that midriff-baring tops are for everybody. First, they accentuate your waist -- which automatically goes in (because that's how ribcages are structured), so fret not over your body type or whether they "suit" you or anything other than the fact that regardless of anything, you'll look super-fly wearing one. Second: there are options. Alexander Wang gave us fitted tanks with cut-outs, while Holly Fulton kept her vibe bright and loose. You can even make your own by buying an oversize t-shirt and cutting it as you see fit. Pair it with high-waisted pants, and the world is yours. (Yours!)
It's time to accept that flip-flops aren't sensible. (They're bad for your back, and leave your feet dirty and sore.) But sandals by Rag & Bone and Fendi delivered footwear that look like the type your mother urged you to buy over anything we've been wearing so far. Low to the ground, easy-to-fasten, and arguably hard to lose (how many times have you fallen out of flip-flops, I ask you), sensible sandals are your gateway into the world of shoes that don't make you want to weep and/or stop walking.
Yes you can. Yes we can. Yes everybody can. Chloe's brand of business short (pleated and high-waisted) may be the first style that comes to mind, but designers like Paul & Joe (with a short and suede look) and Alexander Wang (with a simple grey number) prove that the universe of dress shorts can range from the traditional to the experimental to "perfect to wear with tights come autumn." Thank the cropped pants gods: business and/or dress shorts are not just khaki bermuda shorts anymore.
If they're good enough for Rachel Green, they're good enough for us. Having descended from the same world as crop tops, overalls (first resurging last year, and then staying around for another S/S) are the '90s trend that could. Why? Because they're not super flattering. On anybody. Which means you just have to wear them, comfortably, happy, and with the knowledge that your inner teen is smiling widely and content in knowing that as an adult, you're choosing comfort and coolness. But only if you wear them with one strap -- and especially if they're printed like the ones created by Leonard.