While Google Glass remains in stasis, a Vancouver-based company isn't waiting to roll out high-tech specs that display information before your eyes.
Recon Instruments launched its Recon Jet, wearable glasses with real-time fitness info, on Thursday night.
And while the company doesn't actively position itself as a competitor for Google Glass, there's no denying a few similarities.
Like Google Glass, Recon Jet has a heads-up display that shows information right before your right eye.
But unlike Google's product, which shows a variety of apps (and has been criticized for making wearers look like "assholes") Recon Jet has a specific focus on fitness, and providing info such as your heart rate and distance travelled on a run.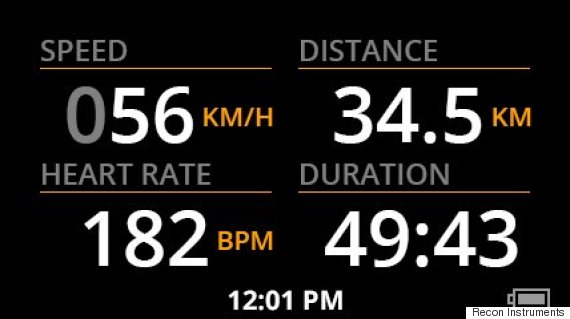 Recon Jet's heads-up display, which sits just below the right eye.
The Recon Jet has been in development for almost a decade, after company founders Hamid Abdollahi, Fraser Hall and Dan Eisenhardt began developing eyewear with fitness information while studying at UBC in 2006.
They produced ski goggles with real-time info before developing their latest product, which is basically a pair of sporty sunglasses with a heads-up display.
Google Glass' introduction actually provided a boost for Recon because it helped raise awareness of what smart eyewear could be, chief marketing officer Tom Fowler told The Huffington Post Canada.
"For Recon, it was nothing but a gift to have Google enter the party, and particularly enter the party with a different perspective from Recon, so it was clear what the differences were," he said.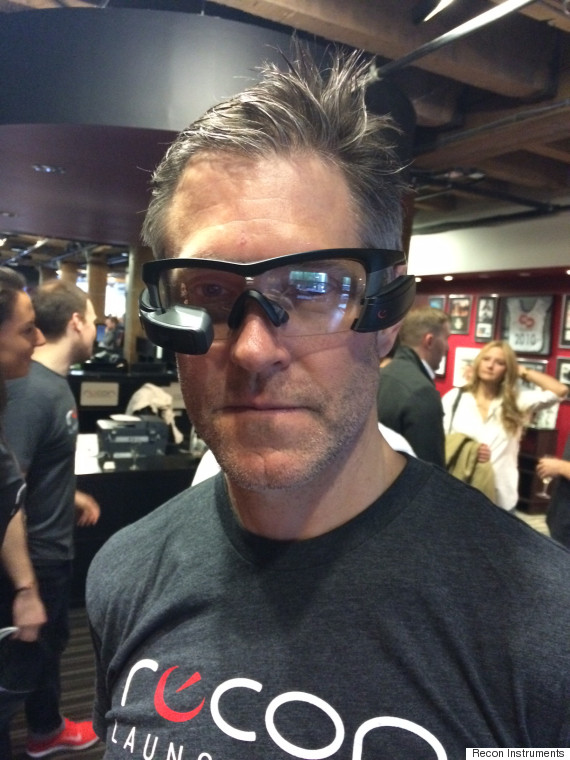 Tom Fowler, chief marketing officer for Recon Instruments, shows off the Recon Jet.
The Huffington Post Canada tried out the product at the launch event this week.
The heads-up display can be navigated easily and it doesn't obstruct one's view, though it's easy to imagine the glasses falling off during an intense run.
But that wasn't the case for Sean O'Kane, a writer at tech site The Verge, who called them "sporty smart glasses you might actually want."
The Recon Jet might not always be so alone in the wearable tech market. Google Glass could yet rise again, and Sony has opened pre-orders for its Smart EyeGlass.
But Fowler believes there's value in making smart eyewear with an activity-specific focus. And at $699, it's cheaper than the Google (US$1,500) and Sony ($840) products.
"The pathway is clear for Jet," he said.
Take a look at Recon Jet's Vancouver launch event: