Marc and Jodie Emery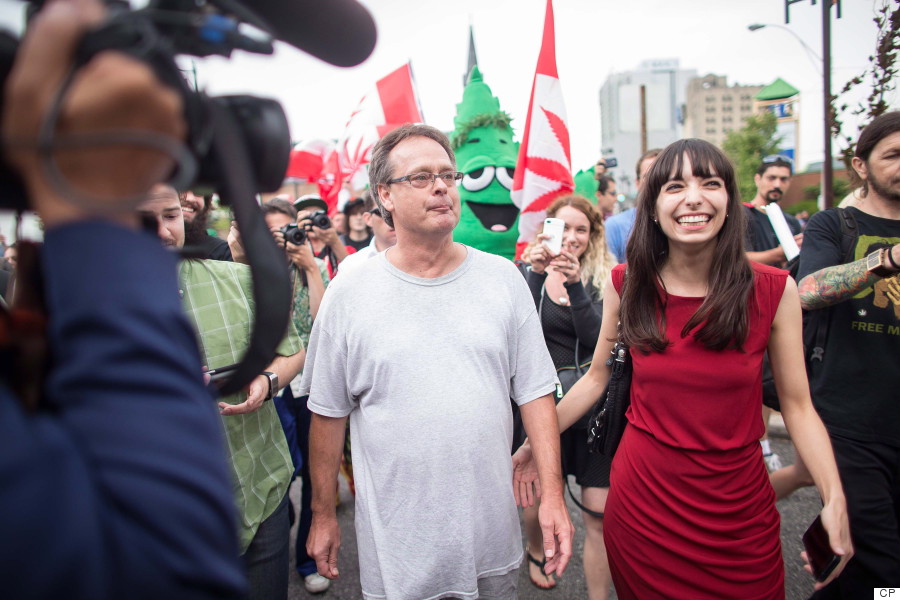 Mark and Jodie Emery greet media and well-wishers near the border crossing in Windsor, Ont. on August 12, 2014. (Photo: Geoff Robins/CP)
Canada's so-called Prince of Pot is set to celebrate his first 4/20 on home turf after serving a five-year prison term in the United States.
Marc Emery was extradited to the U.S. in 2010 to serve time after he was charged for selling marijuana seeds to American customers.
"I am absolutely devastated that this Conservative government has opted to send my husband, a Canadian citizen, to the United States for a 'crime' that amounts to a $200 fine in Canada," Emery's wife Jodie said at the time.
In his absence, Jodie spearheaded the "Free Marc Emery" campaign, urging the government to transfer her husband home so he could serve a portion of his sentence in Canada.
Despite both the Correctional Service of Canada and Department of Justice's efforts to facilitate Emery's transfer, the Conservative government rebuffed their recommendations.
"Individuals who have been convicted of serious crimes should face the full forces of the law. And unlike the opposition parties whose primary focus is the drug trade, our government will continue putting the rights of victims first," said a spokesperson for Public Safety Minister Stephen Blaney in 2013.
Last year, Jodie announced her intention to seek the Liberal nomination in the riding of Vancouver East. The federal party ultimately kiboshed her candidacy and issued statements distancing themselves from the high-profile pot activist and her husband.
"I'm a bit hurt that the Liberal Party is dismissing my campaign and blaming it on my husband, but that just gives me more reason to run even harder as my own woman," she told CBC News.
But the decision hasn't soured her support for the Liberals, either. The pair are planning to embark on an election-timed cross-Canada tour focusing on "replacing the Harper Conservatives."
Alison Myrden
Alison Myrden holds a sign and a marijuana joint in this undated photo. (Photo via Facebook)
At 28, Alison Myrden was diagnosed with chronic progressive multiple sclerosis. The disease eventually took away use of her body from the waist down.
Now, nearly 25 years later, Myrden wrestles with MS complications and lives with chronic pain associated with left-side Trigeminal Neuralgia.
"I smoke half of a marijuana cigarette every half hour to hour to relieve the excruciating pain I experience on the left side of my face and head every day around the clock," Myrden writes on her website. She attributes use of the drug as a way to help her be "alert and functional."
"Marijuana has helped me to come down from almost 2,000 mg of morphine per day. It has helped my leg spasms. It helped my bladder problems. It took away my nausea and stopped my constant vomiting. It has helped other symptoms that I wasn't expecting."
Myrden has emerged as advocate, defending the use of marijuana among the seriously ill. She has been critical of the government's approach to regulating medical marijuana.
Last year, she warned about how new regulations will substantially increase the cost of the drug for some patients, affecting the access mandated by the Supreme Court.
Clayton Goodwin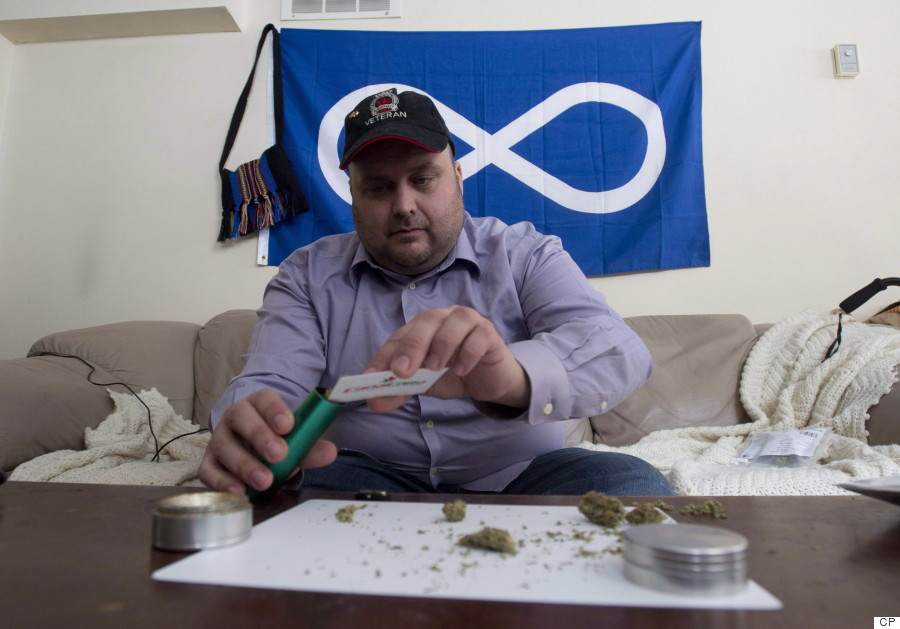 Clayton Goodwin prepares medicinal marijuana at his apartment in Ottawa on March 20. (Photo: Adrian Wyld/CP)
A group of former soldiers want to raise a stink about medical marijuana access in Canada and retired veteran Clayton Goodwin is leading the charge.
The group, called Veterans for the Use of Medical Marijuana, say they're facing unacceptable delays getting medical pot for personal use.
The charge comes amid the Conservative government's opposition to the drug while the number of soldiers prescribed pot quadrupled in the last year.
The group hopes they can help soften the federal government's stance against marijuana, pointing out some injured veterans smoke pot in lieu of taking "significant" amounts of medication.
"Right now, normal Canadians, never mind veterans, do not have enough access from the licensed producers from the program that's been put in place to supply us our medication because (the government) hasn't licensed enough of them and they are taking on too many consumers," he said in March.
"It's more that we need to work towards ending stigma and shame and get more voices in a room because I'm not aware if we're ever brought up in there," he said.
Liam McKnight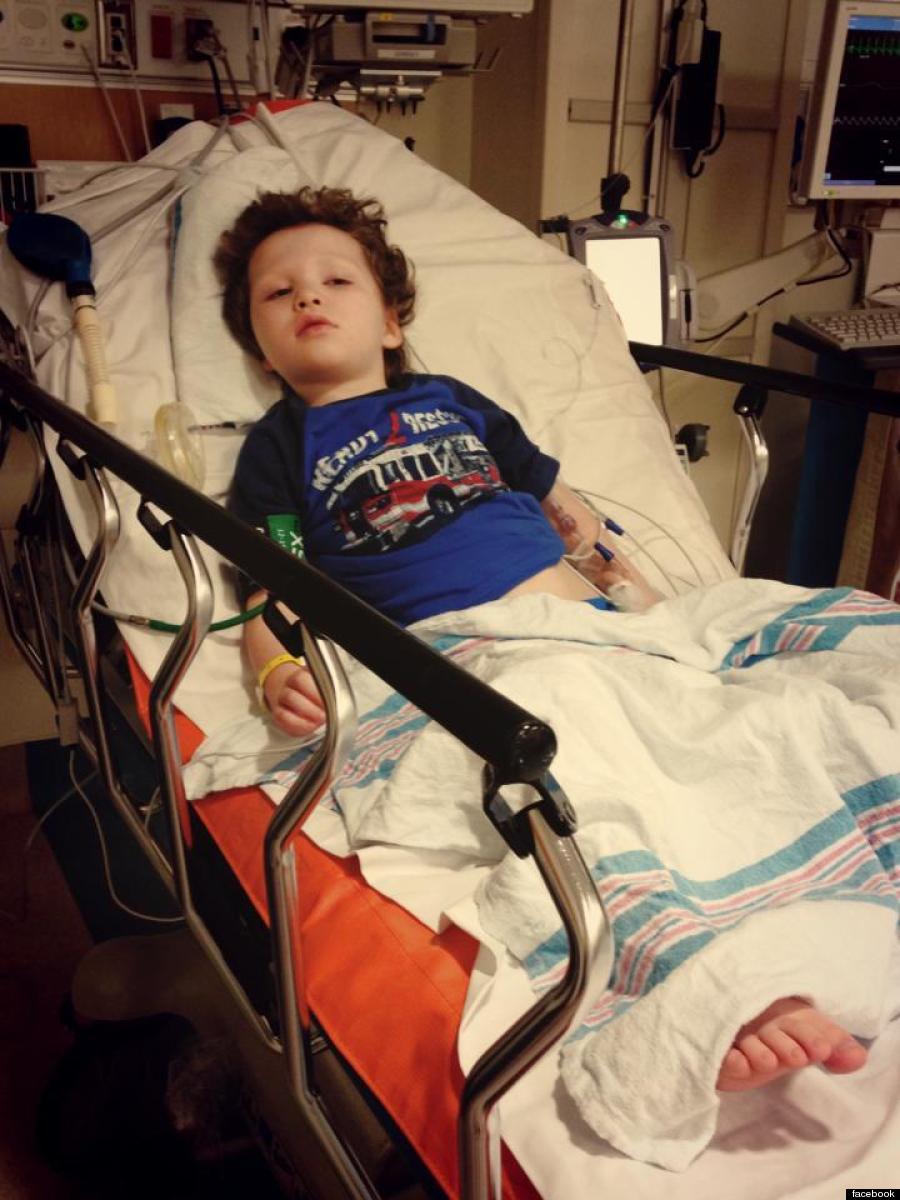 Liam McKnight poses for the camera in a hospital bed in this undated photo. (Photo via Facebook)
Suffering from a rare form of epilepsy, Liam McKnight experienced his first seizure when he was nine months old.
For years, his small body would deal with the sudden attacks several dozen times a day. But that changed when he began using marijuana oil, says his mom Mandy.
"It's just giving him an opportunity to live, to not just be home seizing," she told The Telegram.
Now, six years later, obtaining vials of marijuana oil has become more difficult for Liam and his family.
Health Canada's changes to laws around medical marijuana now prohibit use of by-products including edibles and oils. According to regulations as they stand, Liam must smoke pot instead of consuming it orally.
Obtaining the oil has also become complicated. Liam's mom has to buy it dried and then ship it to a Montreal facility where it's converted into the liquid.
His mom told the National Post she's waiting for somebody in the government to finally listen and re-examine the repercussions of its rule changes.
"I really hope that somebody at Health Canada or somebody in this government just finally stands up and says, 'OK, this is ridiculous. We need to help these kids,'" she said.
Like Us On Facebook

Follow Us On Twitter
ALSO ON HUFFPOST: