Canadians who are most satisfied with their lives don't live in metropolises like Toronto or Vancouver.
Instead, they live in smaller cities, like Saguenay, Que.
That's according to "How's Life in the City," a report on life satisfaction in cities across the country that was released by Statistics Canada this month.
The report, by Chaohui Lu, Grant Schellenberg and John Helliwell, found the highest level of average life satisfaction among Census Metropolitan Areas (CMAs) in Saguenay, which rated a score of around 8.2, while Vancouver and Toronto were closer to 7.8.
Here are Canada's cities with the highest average life satisfaction: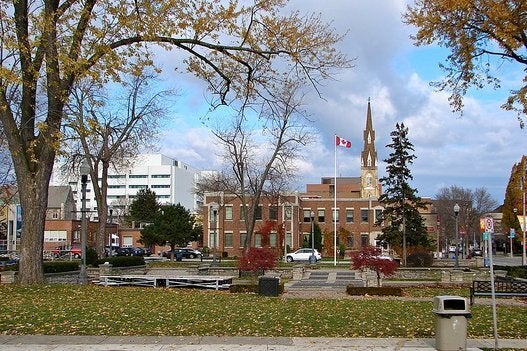 Canada's Most Life-Satisfied Places, According To Statistics Canada
Scores were generated using 340,000 responses to the General Social Survey (GSS) and the Canadian Community Health Survey (CCHS) between 2009 and 2013.
Each respondent was asked: "Using a scale of 0 to 10, where 0 means 'very dissatisfied' and 10 means 'very satisfied,' how do you feel about your life as a whole right now?"
Areas including as Peterborough, Guelph and Brantford had approximately 1,400 to 1,700 responses considered, while cities such as including Kelowna, Greater Sudbury and Saguenay had between 1,800 and 2,000.
The highest and lowest levels of average life satisfaction didn't deviate enormously (the difference between Saguenay and Vancouver was only about 0.4) but a series of charts included in the study show the cities consistently near the top and the bottom, respectively.
In addition to falling at the very bottom of the list showing average life satisfaction, Vancouver also showed the lowest percentage of people who rated it with a score between nine and 10.
It also ranked sixth from the bottom on a list of CMAs whose people rated their life satisfaction at a score of six or lower.
Saguenay, meanwhile, sat near the top in every chart.
The study found a relationship between life satisfaction and living in smaller communities: "most of the CMAs at the top of the rankings have populations under 250,000, while Toronto and Vancouver rank at or near the bottom."
This is backed up by an article in the "Annals of the Association of American Geographers," which said that "a recurrent finding is that life satisfaction and happiness are lower in denser, more urbanized settings."
But it also said that there are differences within certain groups when examining individual-level statistics in "smaller, mid-size and larger CMAs."
The study identified a number of factors that could influence life satisfaction.
It said, for example, that satisfaction is a bit higher among women than men (though this is not quite how it's cited by the OECD), and lower among immigrants than those born in Canada.
Married people also reported higher life satisfaction than those who were single, separated, divorced or widowed.
Those who rated their health as "excellent" also saw higher life satisfaction than individuals who said it was "good" or "poor."
Statistics compiled by the OECD found that Canada ranks third out of all 36 countries in life satisfaction with a score of 7.6, behind Norway (7.7) and Switzerland (7.8).
Canada was above the OECD average (76 per cent) when it came to residents having positive experiences (80 per cent.)