Jodie Emery/Twitter
The Prince of Pot was no doubt the main attraction in front of a hometown crowd as an estimated 15,0000 marijuana enthusiasts gathered in downtown Vancouver to celebrate the bud.
Marijuana activist Marc Emery started the 4/20 event in Vancouver 20 years ago and it's become a mix of rejoicing in cannabis culture and campaigning for the legalization of marijuana in Canada. It culminates with the crowd lighting up at 4:20 p.m.
Plumes of smoke that rose into the sunny downtown sky could be seen all day long, as vendors — selling everything from popcorn to pot-laced brownies — and organizers began setting up for the event in the morning.
Only 200 people showed up for the first 4/20 in Victory Square in 1995 but crowd size is not the only thing that's changed.
This year was the first 4/20 for Emery since he was prosecuted for selling Canadian marijuana seeds to American clients, and served more than four years in a U.S. prison. He was released last August.
Emery was in the highest of spirits on Monday, speaking for a few minutes about how a vote for the federal Liberals would be a vote for legalization.
The gigantic "Free Marc" banner of years past was replaced with one calling for voters to stop governing Conservative Leader Stephen Harper in the October federal election.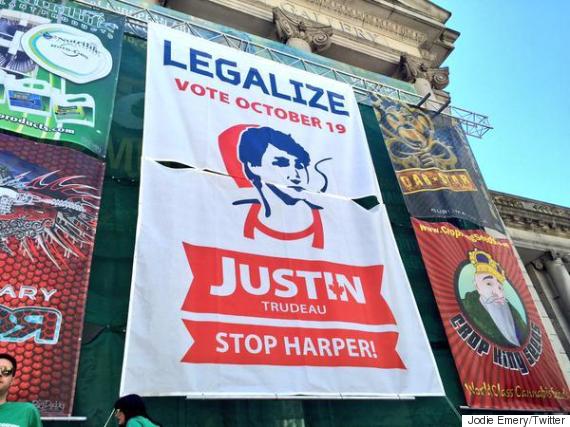 Emery's wife, Jodie Emery, wanted to run for the Liberal nomination in Vancouver East, but was rejected by the candidate review committee. Nonetheless, the couple are trying to drum up support for the Justin Trudeau who supports taxing and regulating marijuana.
Sensible BC, the group that tried to force a 2013 referendum on decriminalizing marijuana in B.C., had two booths collecting signatures on another petition.
Georgia Street between Hornby and Seymour was closed for a few hours because of the crowd. As in previous years, Vancouver police kept a close eye on the crowd but did not make arrests.
The turnout was a boon for nearby businesses. An employee at Romano's Pizza said they had sold at least three times as much pizza as they normally would.
Photo gallery

Vancouver 4/20 Rally, 2015

See Gallery