All eyes may have been on the Calgary Flames and Vancouver Canucks heading into Tuesday's playoff game, but everyone was soon mesmerized by the guy in yellow.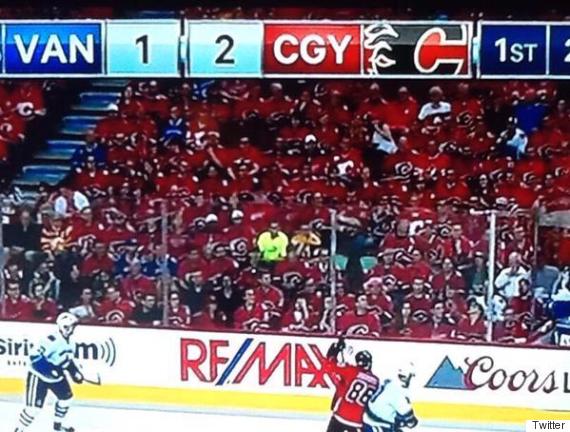 The man's fluorescent shirt was hard to miss in a sea of red at the Calgary Saddledome.
Here you go @guyinyellowYYC @FriedgeHNIC @nicolesaxton #yyc #MyPlayoffsMoment #Flames #NHLFlames @FlamesJambalaya pic.twitter.com/ch3CARRGI1

— Brian Pshyk (@Pshykman) April 22, 2015
It was so blinding that someone offered him a Flames jersey to change into:
Naturally, the guy in yellow had a parody Twitter account by the second period.
I'M ON TV, MA!

— Guy In Yellow (@guyinyellowYYC) April 22, 2015
What am I looking at?? pic.twitter.com/wGQpgrKmpZ

— Guy In Yellow (@guyinyellowYYC) April 22, 2015
He was so distracting even the Vancouver Canucks noticed:
@guyinyellowYYC - We can actually. Can you turn that shirt down?

— Vancouver Canucks (@VanCanucks) April 22, 2015
But the guy in yellow may really be the Flames' good luck charm: Calgary beat Vancouver 3-1 to bring the Canucks to within one game of elimination in the first round of the Stanley Cup playoffs.
It turns out the guy in yellow is Al Scharff from Edmonton. He and his 16-year-old son Jared drove to Calgary for Game 4, wearing neon yellow shirts like they normally do at big public events. It's easier to spot each other in crowds, he told the Calgary Sun, and for family at home to catch a glimpse of them on televised sports games.
"My dad is an Alberta fan," Scharff told The Huffington Post over Twitter. "We live in Edmonton so them first, but he loves Calgary just as much."
(Not to confuse matters, Scharff was wearing a Canucks hoodie at the game, and says he's cheering for both Calgary and Vancouver.)
What a game pic.twitter.com/az5OL7EUYg

— jared scharff (@JaredScharff) April 22, 2015
Perhaps Calgary stores should stock up on neon yellow T-shirts before the next playoff game.
"yeah! playoffs baby"

"what should I wear?!"

"aha, perfect!" #CGYvsVAN #yyc pic.twitter.com/QkSdBEZo9X

— Crackmacs (@Crackmacs) April 22, 2015
Like Us On Facebook

Follow Us On Twitter
ALSO ON HUFFPOST:
Flames vs. Canucks: Playoffs 2015