Torontonians have long been subject to alerts about poor air quality. But where is it the worst in the GTA?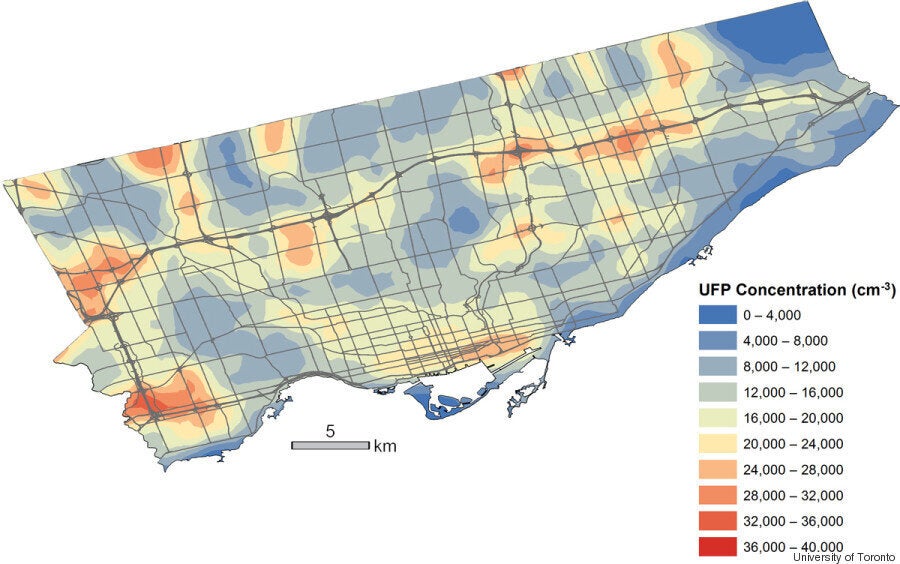 The map, which measures ultrafine particles (UFPs), a "largely unexplored" pollutant found all over the city, was designed as part of a study that is to be published in the June 2015 edition of academic journal Atmospheric Environment.
Other areas of concern include downtown Toronto between Yonge and Leslie Streets, and the Gardiner Expressway to Dundas St.
The map comes amid a series of U of T papers examining air quality in the GTA. One of which found that air pollution from traffic is still double for areas located 280 metres downwind from Highway 400.
"We used to think that living near a major road meant that you lived near a lot of air pollution," chemical engineering Prof. Greg Evans said in a news release. "But what we're finding is that it's not that simple, someone living right on a major road in the suburbs may not be exposed to as much pollution as someone living downtown on a side street near many major roads."
The supporting data was drawn up after vehicle emissions were measured in a mobile lab throughout Toronto in 2014.
It shows that those who live close to major roadways could be breathing in higher levels of "ultrafine particles, volatile organic compounds (VOCs), black carbon and other pollutants."
Evans said the UFPs are "particularly troubling" because they're more than "1,000 times smaller than the width of a human hair, they have a greater ability to penetrate deeper within the lung and travel in the body."
The research found as many as 20,000 UFPs in a cubic centimetre of air on a typical summer day in the city. It means that with every breath, Toronto residents are taking in 10 million of these pollutants.
While the research shows pollution is still a concern throughout the city, there are signs that air quality has improved there.
The province, it pointed out, did not have a single smog alert in 2014, for the first time in over 20 years.