To say that Gardie Warne has dealt with hardship is an understatement.
Warne lost his wife to cancer three years ago and is raising his seven-year-old son Nolan by himself. Born premature, Nolan has cerebral palsy and scoliosis, as well as problems with his sight and hearing.
Before his son was born, Warne had no idea about the time, effort, and costly equipment required by a child with special needs.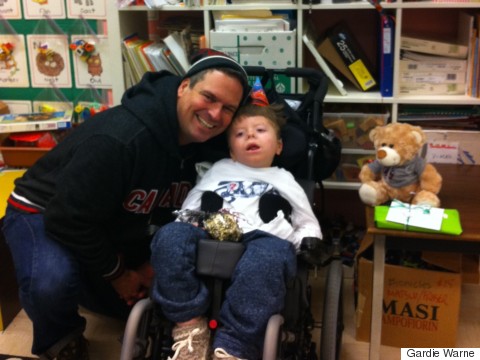 Gardie Warne and his son, Nolan, on his seventh birthday.

"Nolan steers my life now," said Warne. "Anything he needs, I go with it," Warne told The Huffington Post B.C. in an interview.
Nolan uses a specialized stroller and wheelchair, and a lift at home to move him around. He requires special feeding tubes and formula, as well as therapy programs. None of that equipment is covered by the public health care system.
Nolan's medication alone costs roughly $2,000 per month, says Warne.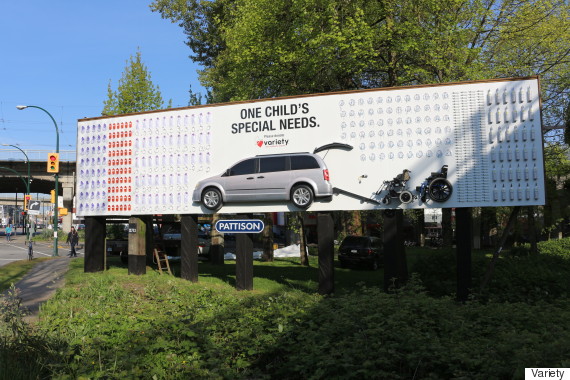 The daily struggle of many families in B.C. like the Warnes led to a new 3D billboard, unveiled this week, at the high-traffic entrance to Vancouver's Granville Island.
Real oxygen tanks, medicines, and even a wheelchair have been attached to the billboard — totalling 468 pieces of equipment — to illustrate the supplies needed by one child with cerebral palsy, like Nolan.
"This superboard shows the magnitude of support that's needed, and yet it's a fragment of the journey," said Bernice Sholten, executive director of Variety – The Children's Charity, which organized the campaign.
Variety wants the billboard to raise public awareness about the reality of many children who have special needs.
The charity has been able to help the Warnes with funding for therapies, nutritional supplements and a van conversion — help that is greatly appreciated.
Warne, who has worked as a server for the past 25 years, cares for Nolan around his work shifts. That includes getting up at 6:30 a.m. every day to give Nolan his first formula — a time that feels especially early for Warne who doesn't sleep on nights when his son is sick.
"All the work and care can be overwhelming at times," Warne said. "But it is rewarding, even if it is all just for a smile from him in the morning."
Like Us On Facebook

Follow Us On Twitter
ALSO ON HUFFPOST:
10 Things Parents Of Kids With Special Needs Wish You Would And Wouldn't Do