A new poll shows Alberta's NDP are pulling ahead of the pack, with almost 38 per cent of Albertans planning to cast their vote for the underdog party on election day.
The Forum Research poll, conducted the night before and the night of the provincial party leaders' debate, also found the governing Progressive Conservatives trailing behind the Wildrose Party, with one-quarter saying they would vote Wildrose and one-fifth PC.
The polling firm says the most recent findings are a "dramatic shift" away from their April 10 poll, which found the three main parties were neck-and-neck: Wildrose with 30 per cent, NDP with 28 per cent, and the PCs with 27 per cent.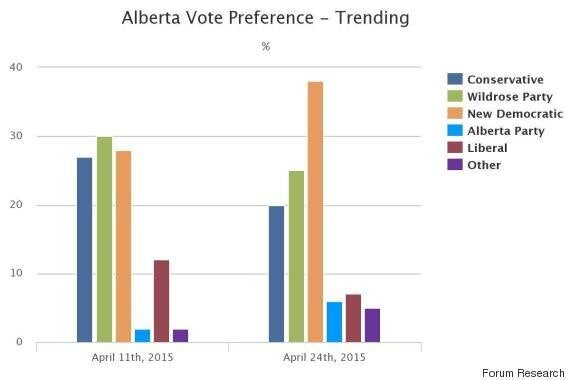 The Forum Poll surveyed 801 randomly selected Albertans and has a margin of error of plus or minus three percent, 19 times out 20.
NDP Leader Rachel Notley's strong performance in Thursday night's debate may have helped edge along her party's lead, according to another poll.
Notley won hands-down," Mainstreet president Quito Maggi told the Calgary Herald. "She went toe-to-toe with the premier (Prentice) a number of times and more than held her own."
However, when asked to choose which party will likely win the election, 37 per cent said the PCs and 26 per cent said NDP, reports the Herald.
The poll surveyed 2,322 people and has a margin of error of plus or minus two percentage points, 19 times out of 20.
Political pundits across the province agreed Notley came out on top during the debate, which largely centered around Notley and Prentice, often leaving out Wildrose Leader Brian Jean and Alberta Liberal Leader David Swann.
Herald columnist Don Braid called Notley "a tough target" for Premier Prentice, and that she was "aggressive without being unpleasant, constantly interjecting without seeming rude, throwing even Premier Jim Prentice off his game."
"In fact, Notley was so good she drew most of Premier Prentice's attention," wrote Calgary Sun columnist Rick Bell.
"I'm sure the premier would have liked to try and pulverize the heavily-scripted Wildrose boss Brian Jean. But Prentice, looking for a much-needed debate win, needed to constantly deal with Notley and her jabs."
Prentice did not do himself any favours when, at one point in the debate, he told Notley he knows "math is difficult," while talking about the NDP's plan to raise corporate taxes.
Prentice misstated that the NDP wanted to raise Alberta's 10 per cent corporate tax rate to 20 per cent instead of the 12 per cent outlined in the NDP budget plan.
"What are you talking about, our proposed corporate tax rate is 12 per cent. I am not sure who is briefing you," Notley interjected.
"I know that math is difficult," Prentice said as the two leaders talked over one another. "Ten per cent to 12 per cent is a 20 per cent increase."
Prentice insisted to the Canadian Press that he didn't intend to come off as condescending, but the social media firestorm generated by the comment told a different story.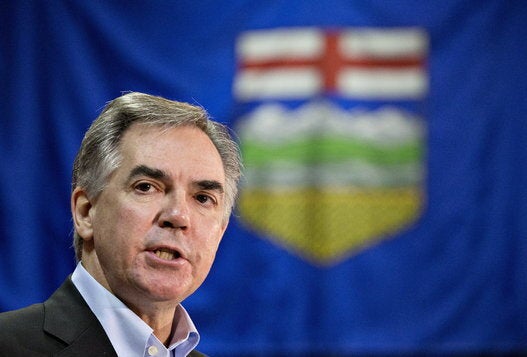 Alberta Election 2015 In Photos