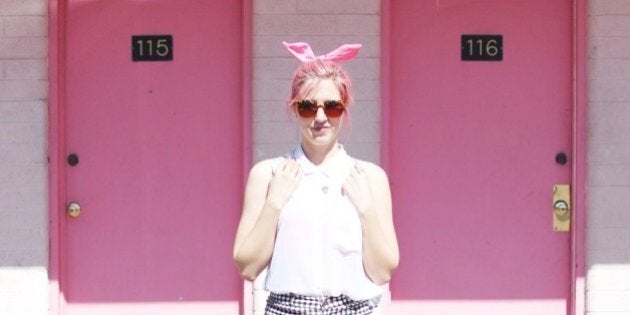 Canada's Instagrammers do a great job capturing this country's natural beauty and diversity. Each week we feature one of the country's best Instagrammers.
Oh hello, I'm Alyssa, the rainbow-haired blogger behind Random Acts Of Pastel. I'll be posting a bit of pastel magic here over the next week, and I hope you'll follow along!
In case you haven't already guessed, I love playing with colour in my photos (specifically pastels). My account is sort of a treasure hunt for chalky, faded hues, and while some photos are carefully curated, the majority are just elements that all came together to make something magical. This pink door in the St. Clair West neighbourhood that my friend and I stumbled upon is a great example!
I know it's sort of boring, but my absolute number one most important tip is always, always wipe off your lens before snapping a photo. It will make a world of difference in the colour/quality of your images!
I have a tendency to overshoot when I catch really good light or put a lot of work into a setup, which means often I have a ton of extra photos that I love but don't get a chance to use. This flower snap was an outtake from my Valentine's Day gift guide (which I shot most of with my real camera for the blog), and though I wanted to post it my feed was just too flooded with hot pink! It sounds silly, but colour flow is really super important to me.
I'm all about the summer, and this snap of my best friend @linenandhoney and I at Bruce Peninsula is one of my all-time favourites. She lives in Vancouver now, so captured moments like this are extra precious to me.
I am always so impressed by the way @fieldguided captures the world around her- so magical, and yet honest at the same time. She's truly a delightful person, and I feel so lucky to be able to re-discover this city through her eyes.