A group of parents on Facebook are planning to take their children out of school for a week to protest against Ontario's new sex ed curriculum.
The Facebook group called, "Parents & Students on strike: one week no school," with over 5,000 followers, is encouraging parents to strike by taking their kids out of class from May 4 to May 11.
Organizers have come up with a letter warning authorities about the strike in advance. The letter claims the new curriculum is not "age-appropriate," and does not align with some parents' "principles and beliefs."
"As a family, we adhere to a set of values based on our beliefs and culture. We believe that it is our responsibility to teach these values to our children and have the greatest authority over how and when such sensitive topic are being introduced to our children," the letter notes.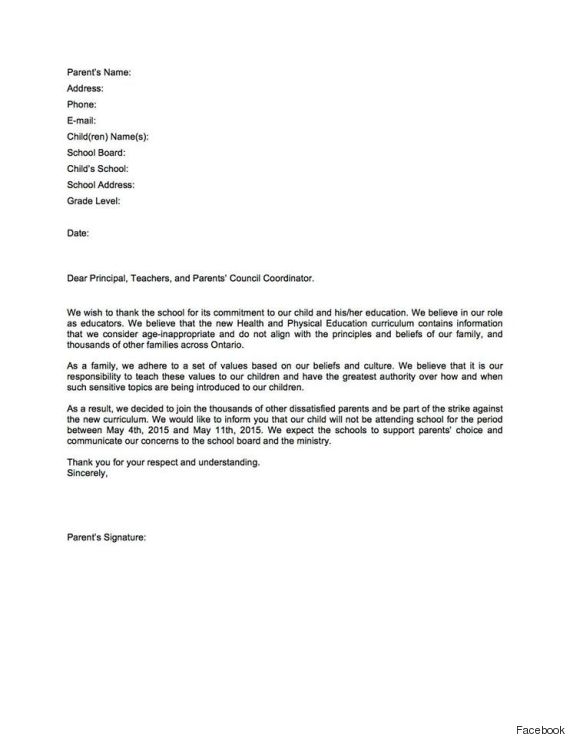 This strike comes just come weeks after thousands of parents and conservative groups protested at Queen's Park opposing the new changes. Parents say these changes (mostly in regards to same-sex marriage and masturbation) went against their religious beliefs.
Liberal Education Minister Liz Sandals said at first although most parents protesting were actually misinformed about the actual content of the new curriculum, others have homophobic beliefs.
And parents who do choose to take their kids out of class will be marked absent, according to the Globe and Mail. A representative of Peel District School Board said students will be responsible of all the classes they miss.
The group says parents should participate as much as they can to send the message.
The new curriculum, which has been updated for the first time in 17 years, will cover the topics of sexting, cyber-bullying, consent and gender identities. Among the major issues that parents are opposing include the introduction of same-sex marriage in grade 3 and anal intercourse and oral sex in grade 7. Of course, parents who are not comfortable with the curriculum have an option for their children to opt out of sex ed class during the school year.
Check out the slideshow below for more details on what students will be learning in each grade to avoid confusion and myths.
Also on HuffPost
Ontario Sex Education By Grade