The city of Chilliwack, B.C. has been treated to a free, daily air show of thrilling spins and stunts — until recently, when some people felt the death-defying aerobatics were too noisy.
Professional air show pilot "Super Dave" Mathieson practises his stunts for an average of 15 minutes a day in good weather in his two-seater plane. He has to train regularly over an airport runway in case any of his low-flying moves (some within a foot or two of the ground) goes wrong, reports the Chilliwack Progress.
But he was grounded this month after some residents complained about the noise from his MX-2 plane, which has a top speed of 426 km/h, said the newspaper.
Transport Canada reportedly told Mathieson he could no longer perform his stunts any lower than 2,000 feet at the Chilliwack Airport because it's too close to "noise sensitive" areas of town.
"I appreciate that he has to practice. My concern is the noise," Chilliwack resident Bob Janzen told The Progress. "Why can't he fly 10 kilometres outside the city?"
According to a campaign to get Mathieson back into Chilliwack skies, more than a dozen businesses and residents sent complaints to Transport Canada. The pilot's supporters are being encouraged to write letters and emails, and to phone politicians and the federal agency.
Mathieson, whose flying career spans almost 30 years, is a regular performer at the annual Chilliwack Air Show. The former bush pilot has also been featured on the Discovery Channel TV series "Airshow."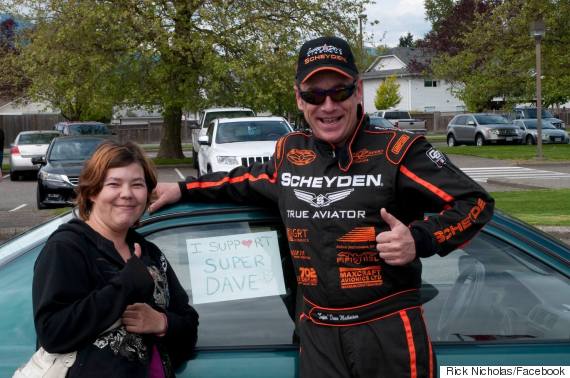 Supporters gathered at a rally for 'Super Dave' Mathieson over the weekend.
On Sunday, Chilliwack residents showed up at a rally to "Let Super Dave Fly." An online petition is also collecting signatures to lobby Transport Canada to reverse its decision.
"Dave Mathieson is a benefit to our community and the noise his plane makes for a few minutes a day isn't nearly as bad as my neighbour's lawn mower on Sunday morning. Let the man practice where he is," wrote one resident.
In the meantime, Mathieson is working on a Plan B. He's trying to find a landowner with a field that is "one mile deep, and half a mile wide" with "reasonable neighbours and no residents or living animals" to use as a practice area instead, said My Chilliwack News.
Born in Ontario, Mathieson moved to Chilliwack recently to focus on his dream of being a full-time air show pilot.
"I think it's the ultimate freedom, Mathieson told Shaw Chilliwack. "You can do anything you want with this, if you can dream it up and you're daring enough to try it, this plane can do it."
Like Us On Facebook

Follow Us On Twitter
ALSO ON HUFFPOST:
World's Most Creative Airplane Paint Jobs