If Bud Light is up for anything, it's trouble.
The beer company was panned on Reddit Monday after a user posted a photo of a bottle with a message saying, "The perfect beer for removing 'no' from your vocabulary for the night."
View post on imgur.com
Social media users called the bottle's message "offensive."
I didn't want to believe this new Bud Light slogan was real because it's so insanely offensive, but it's real. Wow... http://t.co/IN7byQxyl4

— Katie Callaway (@Kecallaway) April 28, 2015
This Bud Light slogan was so offensive I couldn't believe it was real.

It's real.

http://t.co/cbet5C83C9 pic.twitter.com/HvPGUvdT1s

— Judd Legum (@JuddLegum) April 28, 2015
The message came as part of Bud Light's "Up for Whatever" campaign, which is meant to gather people for a fun time, AdWeek notes.
As part of the campaign, the beer brand produced 140 scroll messages "intended to encourage spontaneous fun."
But in a statement released to The Huffington Post Canada on Tuesday, Bud Light vice-president Alexander Lambrecht said, "It's clear that this message missed the mark, and we regret it. We would never condone disrespectful or irresponsible behaviour."
The bottles with messages were never circulated in Canada.
This isn't the first time that Bud Light has encountered controversy over its "Up for Whatever" campaign.
On St. Patrick's Day, it tweeted a photo of some women wearing green with the message, "On #StPatricksDay you can pinch people who don't wear green. You can also pinch people who aren't #upforwhatever."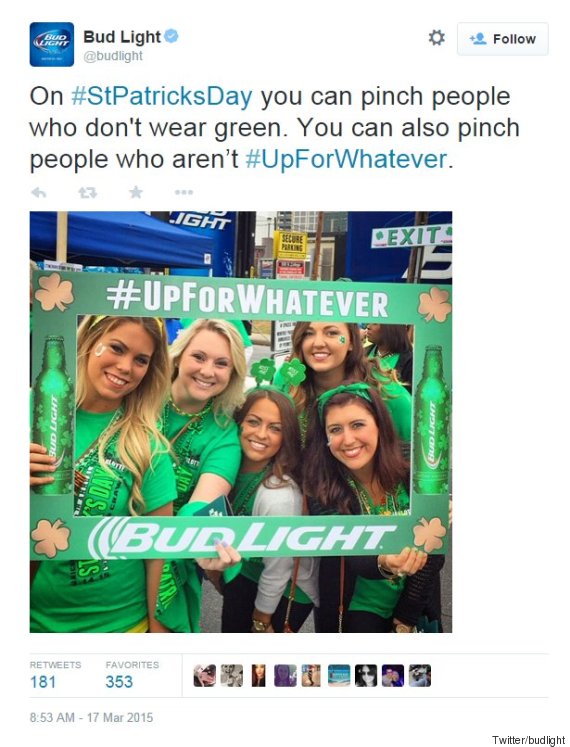 The tweet, which was later deleted, drew accusations of promoting sexual assault.
Like Us On Facebook

Follow Us On Twitter

ALSO ON HUFFPOST: