Vancouver Police
VANCOUVER - Vancouver's finest have hatched a plan to help 10 jail birds fly the coop from police headquarters, and everything turned out ducky in the end.
Sgt. Randy Fincham says a concerned citizen reported a mother duck and nine ducklings marooned on the third-floor patio ledge at the police department on Sunday.
Officers responded, and after a brief investigation determined the mother likely laid her eggs near the building's outdoor vegetable garden, where they were born.
Fincham says three officers and a wildlife volunteer corralled the ducklings into a box and took them to street level, where they were soon joined by their mother, who swooped down from the building.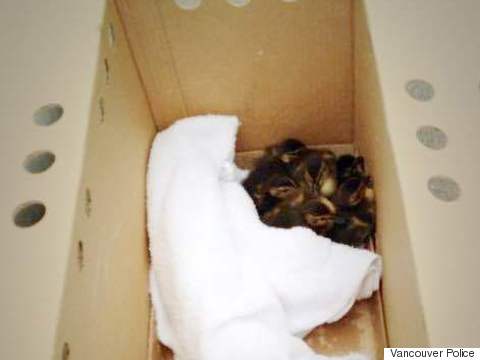 Fincham says the police and volunteer worked together to stop traffic, cyclists and the occasional dog as they walked the box of ducklings towards False Creek while the mother waddled behind.
He says the birds were safely released into the water, and the group learned that policing isn't always quite what it's quacked up to be.
Also on HuffPost