First, Vancouver saw a restaurant that let them dine blind in the dark. Now, the city is the latest location for a "deaf" restaurant that will encourage people to talk with their hands.
The serving staff at "DeaFined", set to open on May 7 in Kitsilano, are all hearing-impaired or deaf. The establishment will be the second in Canada asking its customers to order meals using American Sign Language.
"It's supposed to be fun and inclusive, all at the same time," owner Moe Alameddine tells The Huffington Post B.C. in a phone interview.
Customers arriving at the restaurant will be greeted by a hearing hostess who will act as an interpreter, Alameddine explains. Once a group is seated, they're introduced to their server — and that's where the signing begins.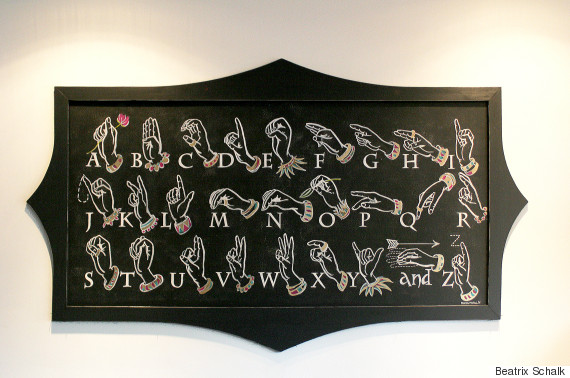 Foodies who don't know sign language are still welcome, as each table will have a "cheat sheet" nearby with all the signs drawn out. For those who have serious dietary restrictions or allergies, there are pens and paper available as a last resort.
Alameddine — who owns three "blind" restaurants including Vancouver's "Dark Table" — says all of his businesses hope to teach people how to better connect with one another.
"(The servers) are happy to have a job in restaurant business that gives them the chance to prove themselves," he explains. "We're going to take these barriers down. No more isolation for the deaf, no more isolation for the blind.
"Even if we can only go halfway, we can always work to understand each other."
Like Us On Facebook

Follow Us On Twitter
ALSO ON HUFFPOST: