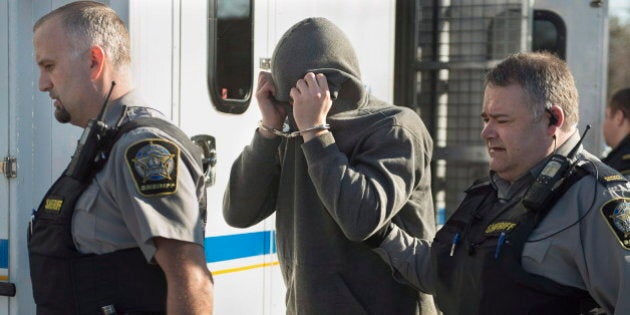 Four British sailors accused of gang raping a Nova Scotia woman have been granted permission to stay at the British Army Training Unit in Suffield, Alta., after being told they are no longer allowed to stay at the Stadacona base in Halifax.
The commander of Canada's East Coast navy, Rear Admiral​ John Newton, said the four were no longer welcome at the Halifax base and had to leave by 6 p.m. Friday.
A judge granted the four permission to relocate to the British training unit in Alberta.
The four men, who were in Halifax to play in a hockey tournament against Canadian teams, are alleged to have participated in the "group sexual assault" of a civilian woman in the barracks at the Halifax-area military base late on the evening of April 9 or early April 10.
The Canadian Forces National Investigation Service charged each man with one count of sexual assault causing bodily harm and one count of sexual assault committed with one or more other persons.
- Craig Stoner, 24, of Stonehouse.
- Darren Smalley, 35, of Gosport.
- Joshua Finbow, 23, of Stockbridge.
- Simon Radford, 31, of Lower Gosport.
The men have no prior convictions and were released on $3,000 bail each.