Calgary Stampede 2015 is THE year to chow down.
On Thursday, the Calgary Stampede released their much-anticipated slate of food offerings for this year's midway and all we can say is, "OMG. YUM."
We're totally looking forward to putting back a red curry poutine, followed by more than a few mini donut Popsicles. We're also stoked to try the lobster corn dog and the jalapeno mini donut poutine (although, probably not on the same day.) We probably won't go near the cockroach pizza (gross) or the $100 hot dog (because that's just crazy), but we applaud anyone with the courage to do so!
The thing to remember when it comes to midway food is that it's not supposed to be particularly nutritious (although we are impressed by several healthy additions to this year's menu), and it's best consumed after a few beers, when your conscience has been silenced buy the alcohol.
Which food are you most looking forward to trying? Are there any that look really repulsive to you? Let us know what you think in the comments below.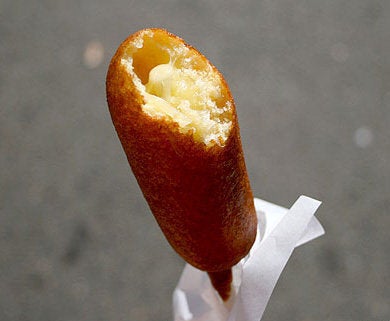 Calgary Stampede Midway Foods 2015
Like this article? Follow our Facebook page

Or follow us on Twitter