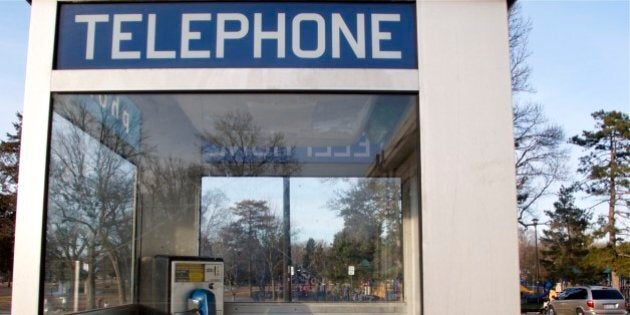 No one in Coalmont seems to know exactly why Roland Giroux is feuding with Warren Spence.
But everyone in the tiny town is painfully aware of the results: Spence is in physiotherapy, Giroux is charged with attempted murder, and Coalmont's lone public phone booth is in pieces.
"For the most part, Coalmont is a pretty quiet place," said Bob Sterne, owner of the Mozey-On-Inn.
"You have a couple of pockets of excitable people, I guess you could call it. For the most part, it doesn't really affect us."
'He was going to finish him off'
Sterne and his wife started a petition asking Telus to reconsider a decision not replace the phone booth destroyed last month by a car allegedly driven by Giroux.
The 65-year-old runs a makeshift goat and lamb sanctuary out of his home. Spence was in the booth, on the phone at the time of the incident.
RCMP St. Sgt. Barry Kennedy says the two have a history.
"It goes back well before my time," he said. "It's so complicated even, I think, some of the locals in Coalmont don't know exactly what it's about."
Spence managed to get out of the phone booth before the car hit, but he was still injured.
"After he was struck, he was injured on the ground, and the driver of the car got out and yelled at him that he was going to finish him off," said Kennedy.
"The car wouldn't start, so he got out and chased him with a bat before the incident came to an end."
Located in rugged mining country 20 km west of Princeton, Coalmont has a population of roughly 100 full- time residents. Cell coverage is spotty. Residents say the area sees a lot of recreational tourists.
Telus spokesman Shawn Hall told CBC the phone has been vandalized and replaced in the past.
"We looked at it, and it's hard to justify bringing a phone back in after it's been wrecked, vandalized and destroyed multiple times," he said.
"We're happy to consult with the community and talk about what options are, but at $5,000 to keep replacing this phone a number of times, it's hard to keep doing that. It's a lot of quarters."
Coalmont has another public phone, but it's located in a heritage hotel which now functions strictly as a bar. As a result, Sterne said the phone is only publicly available during limited hours.
The bar owner says Telus asked her to consider putting the phone outside, but she worries about vandalism.
Ole Juul writes an online forum called The New Coalmont Courier. He published a piece titled Abandoned By Telus.
"I think they have some responsibility here," he said in a telephone interview.
"I realize they have no corporate responsibility per se. But we need an emergency phone here. We do need an emergency phone in this area."
The CRTC recently looked at the issue of disappearing payphones, noting that they provide a crucial communications link for people in rural and remote communities where some consumers don't have access to basic residential service.
And it's not as though Coalmont doesn't have its share of emergencies. Or feuds.
Kennedy says another, separate "out-of-hand" neighbourhood dispute has resulted in charges and an ongoing criminal trial in provincial court. That situation devolved into a brawl allegedly involving pitchforks and shovels.
But Sterne says the feuding doesn't speak to the character of the community.
"There's a lot of good people here, and for the most part, they just want to be left alone and live a quiet life," he said.
"But there's a lot of fairly poor people here as well. In fact, there's some people that don't have a phone and don't have internet access because they can't afford it. So that phone was their only communication with the outside world."