Looks like something may have finally come between Kendall Jenner and her Calvins.
He told Wired, "It turned out surprisingly well. It's exciting to see its first potential use as a device for vandalism."
The billboard, which stands at the intersection of Houston St. and Lafayette St., is a whopping six stories high. That means traditional tagging methods used by graffiti artists weren't really an option.
KATSU had the whole event recorded on video:
Jenner has yet to comment on the state of the billboard, though she's expressed nothing but excitement regarding the campaign. When it was first revealed, the brunette beauty shared a snap on Instagram, with the caption, "Just me in #mycalvins. Proud to be the face of the new @calvinklein #mycalvins Denim Series!"
Last month, she also told ET it's "surreal" to see her face on the billboard, "because it's always been my dream to be on something that big."
Hopefully Kendall doesn't get upset by this!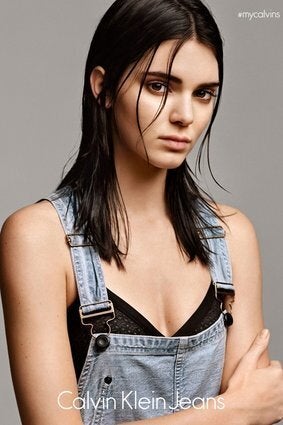 Kendall Jenner Calvin Klein