Bye, haters!
Selena Gomez has been subjected to some pretty harsh body shaming lately, but she's not letting it get to her.
A few weeks ago, the 22-year-old songstress posted a sexy, body-positive selfie in response to all the people who commented on her supposed weight gain (a photo of Gomez in a tiny pink bikini sparked the hate):

She captioned the photo, "I love being happy with me yall #theresmoretolove."
However, some people were quick to criticize the pic, saying things like "you need to work out! Please stop eating junk food" and "shes [sic] an actress she needs to tone her body, in the business sadly the image its [sic] important i'm just saying that she needs to work out thats [sic] nothing wrong with that....."



This time "The Heart Wants What It Wants" singer was less subtle with her response.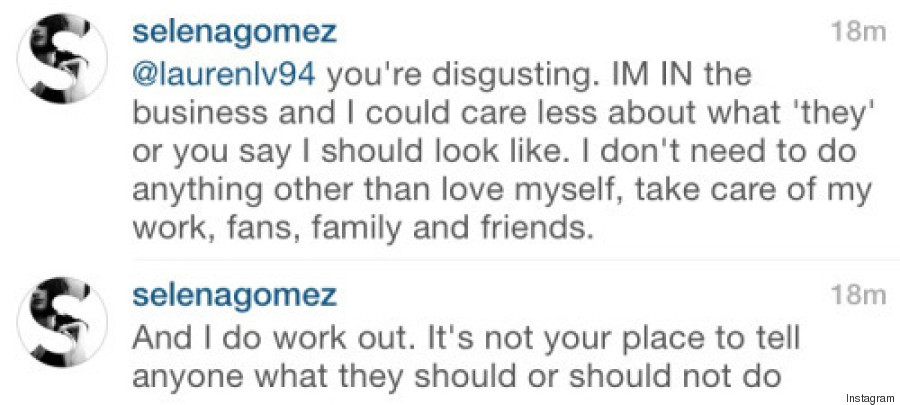 And Selena's not the only one shutting down her body shamers. Actress Abigail Breslin recently took to Tumblr to defend Gomez against the "ridiculous coverage of her appearance."
"I think if we all took the time we spend making each other feel bad about ourselves and used it to make each other feel good, the world would be a better place," she wrote. "Oh and also if we taught girls they had more newsworthy qualities than how they fit into a bikini, we'd have a lot more happy girls."
Preach!
Follow Huffington Post Canada Style on Pinterest, Facebook and Twitter!
Also on HuffPost
Selena Gomez Style Evolution