TORONTO — Marco Mendicino has a jump in his step. The Toronto Liberal is actively campaigning against Conservative-turned-Liberal MP Eve Adams for the Grit nomination in the riding of Eglinton–Lawrence — Finance Minister Joe Oliver's riding.
Mendicino's eyes sparkle, he talks with his hands, and he speaks convincingly at the door step. He knows he's up against a formidable opponent — one who has the Liberal establishment's blessing.
Over the weekend, Rocco Piccininno, the riding president, decided to endorse Adams.
"When we are hunting for big game, you need a big gun," Piccininno told The Huffington Post Canada on Monday. "She's very experienced, and I think, at this point now, we are in line with our leader. [Liberal Leader Justin Trudeau] hand-picked her for this riding."
"Marco is a fantastic man, and a friend, and for me, it is country before friend. I think, at this point, in both their political careers, she is more capable of beating Joe Oliver."
Just a few weeks ago, it looked like Adams was toast and Mendicino would be cruising to the finish line. Senior Liberal sources in Ottawa confided they thought Adams would lose. But now it looks like the race will be a nailbiter.
Standing in his kitchen, Mendicino, 41, a lawyer and former Crown prosecutor, said he was shocked by Adams' defection to the Liberals in February. The only declared candidate in Eglinton-Lawrence, he hunkered down, sized up his new challenger and took a few days to decide with friends and family whether he wanted to fight her for the Liberal nomination.
"I think we made the right decision," Mendicino, a married father of four-year-old and seven-year-old girls, said last Wednesday.
He told The Huffington Post Canada that he didn't take Trudeau's welcoming of Adams to the party as an endorsement of her, or as an indication that it feels he can't beat Oliver in the federal election this Oct. 19.
"I think Mr. Trudeau brought Ms. Adams into the party in the hopes that it would reflect a big tent," he said.
"What I understood Mr. Trudeau to say was...there would be an open and fair nomination. What I believed he meant was that anybody who wants to stand to be the Liberal party candidate has to do the work. That is what I have done."
Since that discussion, however, the number of Liberal party memberships each candidate has sold has leaked. Two unconnected sources confirmed a report in Monday's Toronto Star that has Adams with about 900 memberships sold – less than 10 per cent away from matching Mendicino's membership sales of about 950.
For Mendicino, who started campaigning 8½ months ago, the trend is worrisome. He would rather have the nomination contest called soon, but the Liberal party doesn't appear to be in any hurry. It has about 80 other nominations hanging across the country. The longer the wait, he fears, the better chance Adams has of catching up to his head start.
While going door-to-door last week in the riding to sign up new members, his sense of urgency was clear.
"The party could call the meeting any day. Could you do this tonight?" he gently pleads with Wilson, a chartered accountant who emigrated from China. Wilson stands in the doorway of his new Roselawn Avenue home with his two sons at his side holding a leaflet Mendicino has given him.
He tells HuffPost that he feels an "instant connection" with Mendicino as he pledges his support.
"We both want to build a better life for our kids," Wilson says, patting his youngest son's head.
He hopes one day to bring his parents to Canada. Mendicino talks about his grandfather, who emigrated from Italy after the Second World War and worked as a barber before earning enough money to bring his wife and three children to Canada.
"We are at the same stage in life," Wilson adds, referring to the fact he has two sons about the same age as Mendicino's daughters.
He likes Mendicino's background as a former federal prosecutor who helped secure one of the first convictions under the Anti-Terrorism Act in the trial of the Toronto 18. "Public safety is very important," he adds.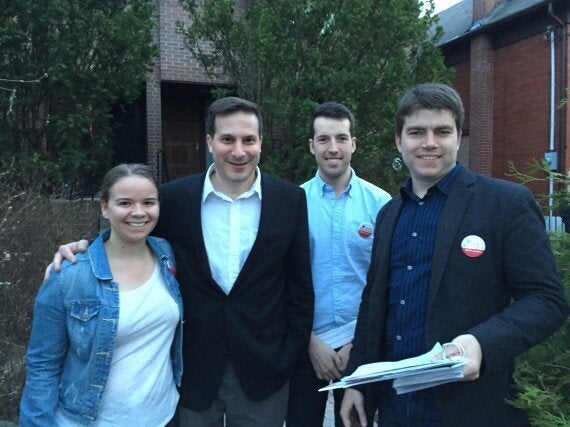 But at another house, there's a different reception.
"I want to be your member of Parliament, that's why I am knocking on your door," Mendicino says.
"I want to get rid of all members of Parliament," murmurs an older man, refusing to open the door.
Next door, Mendicino gives his spiel.
"My life is here," he says, no doubt contrasting that with Adams' lack of roots in the riding, although he doesn't mention her by name.
The young father, who answers the door, gives Mendicino his telephone number and says he is tired of the Conservatives but doesn't know "whether I want to sign up right now."
The Eglinton—Lawrence riding is made up of older, wealthier neighbourhoods with big brick homes and less prosperous areas like Lawrence Heights, a worn-out large public housing project that is scheduled for a massive revitalization project. Italian, Jewish and Filipino communities make up important parts of the riding, which lies just north of Toronto's downtown core. It's a highly educated riding, according to Statistics Canada, but there's a large gap between rich and poor residents. Close to 15 per cent of the riding's residents live in subsidized housing.
Adams, 40, is currently the MP for Mississauga—Brampton South, about a half-hour drive west on Highway 401 from this riding. But she lives in Oakville, Ont., where she was seeking to run for the Conservatives last year. After that party asked her to step aside from a messy nomination race, party insiders say she was prevented from running anywhere else.
While Adams' campaign website makes a point of highlighting her record as an elected official — Mendicino has never run for office — his literature stresses he's a "longtime local Liberal."
Last week, he held a rally in the riding with approximately 100 supporters. The show of strength energized him, he said, and made him optimistic.
Mendicino is pounding the pavement wearing grey New Balance sneakers — which he insists he bought way before the finance minister picked up a blue pair for budget day. Bright red "Vote Marco" shirts are in a box in the back of his car. His two volunteers, Blair, 25, and Maddy, 19, are at his side along with his acting campaign manager Andrew Young. Young is watching over a carefully compiled list of identified potential Liberal supporters. Not all the doors are friendly, but most are. None more so than Penny and Frederick Kennan's.
"Thank goodness," Penny declares when she answers the door and Mendicino tells her who he is.
"I live in the riding," Mendicino says.
"Good," Penny responds. She likes the local MPP, Mike Colle, who has written a letter of support for Mendicino. More important, she despises Adams.
"She seems like she's a bit of a loose cannon," Penny says. "I don't like that she's been ferried from one riding to another.
"I am very glad I had the opportunity to [sign up to support you], because when I thought Eve Adams was going to run, I thought 'Oh, no.'"
Penny dips out to get her credit card while her husband arrives home.
"Ah, you're the one," he says when he sees Mendicino, "who is running against the carpetbagger."
They talk about "wrong-headed" mandatory minimum sentences, the impact on overcrowding in penitentiaries, and Mendocino makes his second, on-the-spot membership sale. The Kennans also volunteer to post a sign on their lawn.
"I'm not enamoured by your leader, but I am enamoured by the Liberal party," Frederick says.
Mendicino responds that Trudeau is working hard and that the Liberal party wouldn't be in contention if it weren't for Trudeau being leader.
On the walk back to his car, Mendicino says it happens occasionally that people have concerns about the Liberal leader, but he disagrees with the term "defend."
"Don't you think he gets judged on the near standard of perfection?" he asks. "I cannot think of anybody else who would have been able to take us from where we were in 2011 to where we are today."
Later that night, Mendicino or his team will input the new membership data they collected. The Liberal party, like the Conservative party, gives itself the right to backdate memberships after it calls a contest. It's a way for the party headquarters to inject some control into a race.
Mendicino says he's being "very scrupulous" with the memberships he sells. Several candidates across the country have been disqualified because of membership errors, most often after allegations — similar to the ones levied against Adams during the Conservative nomination race in Oakville–North Burlington — that they purchased memberships for their supporters.
Adams declined to speak with The Huffington Post Canada for this story. "Eve will not be available to national media until after the nomination," aide Jonathan Crombie wrote in an email. "Our focus is on selling memberships and community campaigning until the nomination."
Amanda Alvaro, one of Adams' volunteer advisors and a member of Trudeau's campaign team, told HuffPost that with Piccininno's endorsement and that of the past riding president, "she has some momentum now."
"Both campaigns are ready for it to be called anytime," Alvaro said about the timing of the nomination race. Adams has been working the riding, morning till night, when she returns home from Ottawa, she added.
Colle, the MPP who responded to Adams' bid by suggesting she would be the MP over his dead body, told HuffPost that he endorsed Mendicino soon after because he was "the local guy."
"He lives in the riding, he has family in the riding and is really committed to where he lives," Colle said. "I truly believe that all politics are local. That's where it starts from, and that means you are connected to the people and you can't have politics that goes top down."
"It gives politics a bad name. It's seen as manipulative. That's when people get their back up."
Trudeau's embrace of Adams was done without any local consultation, he said.
"You'd think they would have their act together at this point. I don't think it's done huge damage to [Trudeau] or the [party] brand, but you don't need your own people questioning what is going on...The brain trust up there, didn't do their homework."
Colle believes Oliver is beatable and that Mendicino can do it.
"[Oliver] won last time because we had an awful leader, this Michael Ignatieff that I am sure cost the Liberals 15 per cent. At every door I went, people said 'I don't mind the party but that Ignatieff guy, so take Ignatieff out, and replace him with Trudeau and you have a great shot.'"
Adams has no base of support and zero chance of beating Oliver, Colle said.
"She has angered a lot of basic volunteer Liberals...And you can't win a riding when you have no local issues, no local connection, no local volunteers. It can't be done."
But still, he said, the race is competitive because Adams has professionals helping her and the unfair backing of the leader.
Piccininno has worked on Liberal campaigns in the riding since 1988 and said he thinks Adams can get the job done. He was impressed by her determination to move to the riding, to sit down with important stakeholders, and to listen to her provincial counterparts.
"Eve Adams has been proven to win in the past, and she's shown in the past two months that she is serious about running in this area. She's put a great team together, and that's what you are going to need to beat Joe Oliver."
She needs to do her time, and she's doing her time, Piccininno insisted. He pointed to the fact she is a mother and a woman in politics who has "been tossed around by the Conservatives for the last couple of years."
"Her spouse has made so many sacrifices and taken so many jobs once she crossed over," he said, referring to Adams' fiancé, Dimitri Soudas, Harper's former director of communication and Conservative party executive director.
"The fact that she is knocking on doors, while having a family at home, every single night, is impressive alone."
Roots aren't all that is important, he added. Longtime city councillor Howard Moscoe never lived in the riding, which he represented for years, Piccininno said, adding "put that in the newspaper."
Although she is not the MP for the area, Adams recently held a passport clinic in Eglinton–Lawrence that got some Conservatives in a tizzy. In a leaflet promoting the clinic, Adams identified herself as "Member of Parliament" but didn't say which riding she represented.
The number on the pamphlet rang to Adams' cell phone, which is also listed on her campaign website. Alvaro told HuffPost that Adams was invited to organize the passport clinic by a building manager.
"There was no campaign activity at that clinic neither was there any campaign resources used," she said. The phone is Adams' personal cellphone which she pays for, Alvaro added.
Piccininno told HuffPost that Adams is "a worthy opponent and someone very special."
But only for now, it seems.
"If she falls asleep tomorrow," Piccininno said, "then obviously Marco is my man. She needs to continue to do what she is doing.
"My comments may be different in two or three weeks but as of this weekend, if we had a nomination meeting tomorrow that is who I would endorse...also it is in line with what our leader wants," he qualified.
Trudeau did not ask him to endorse her, he said, "but you have to read between the lines."