Ashbridge's Bay Park, Toronto, Ont.
It's Toronto's only official fireworks show for Victoria Day, and it's a great one. Sparks will light up the night sky for 14 minutes at Ashbridge's Bay Park starting at 9:45 p.m. on May 18.
Blue Mountain, Collingwood, Ont.
Head for the hills! For Victoria Day weekend, that is. Because Blue Mountain Village is hosting a fireworks display at 10:15 p.m. on May 16.
Canada's Wonderland, Vaughan, Ont.
The bright lights of Canada's Wonderland will find a complement in the sky as fireworks illuminate all from above at 10 p.m. on May 17.
Dow's Lake, Ottawa, Ont.
Victoria Day overlaps with the Canadian Tulip Festival, which takes place in Ottawa and Gatineau from May 8 to 18. A fireworks display will happen at Dow's Lake at Queen Juliana Park at 9:30 p.m. on May 16.
Fanshawe Conservation Area, London, Ont.
This popular camping area provides a venue for the biggest fireworks display in the London region. They start at dusk on May 18.
Milton Boomfest, Milton, Ont.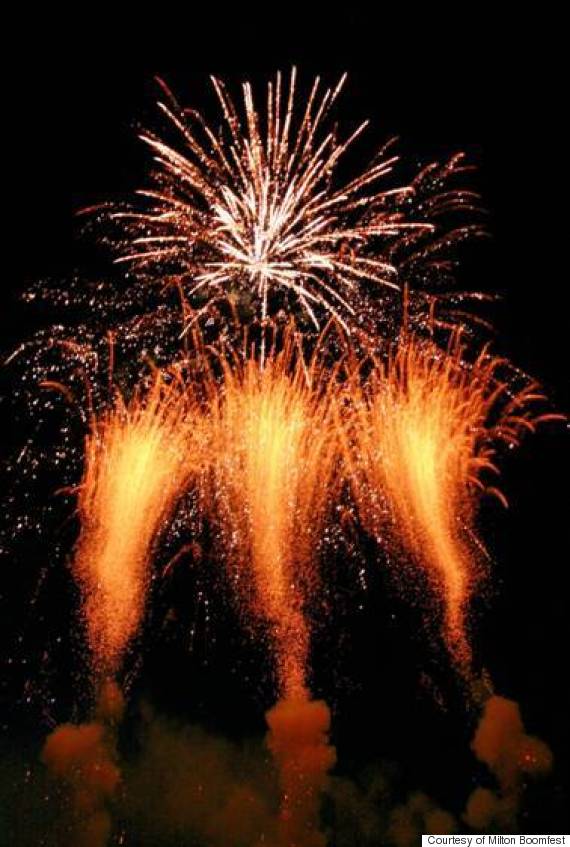 The Milton Fairgrounds hosts a Victoria Day festival all weekend with not one, but TWO nights of fireworks on May 17 and 18, with the latter serving as a gala event. Day celebrations last from 10 a.m. to dusk.
Nanaimo Heritage Days, Nanaimo, B.C.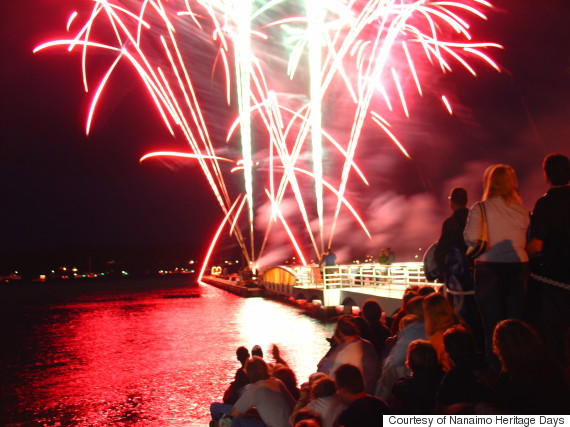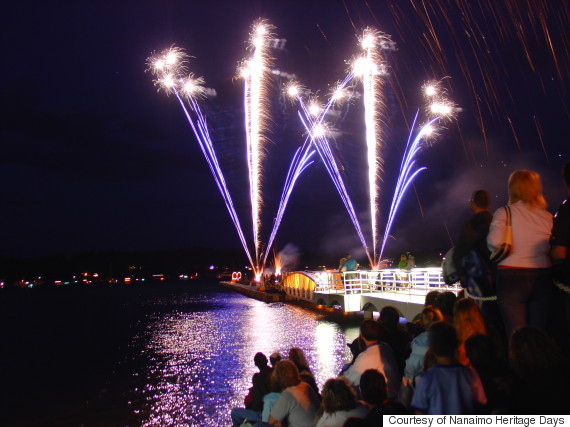 This Vancouver Island city is hosting Nanaimo Heritage Days on May 16 and 17. It's a celebration of both Victoria Day and downtown Nanaimo. The fireworks show starts at 10 p.m. on May 16.
Niagara Falls, Ont.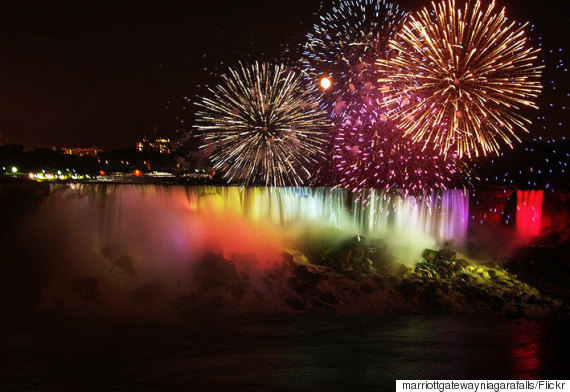 (Flickr user Marriottgatewayniagarafalls/License)
What better setting for fire in the sky than right over water? Niagara Falls is hosting what is sure to be a spectacular concert and fireworks display from 8 p.m. to 10 p.m. on May 18. It'll happen right over the falls.
Nobleton Arena Grounds, Nobleton, Ont.
Fireworks will cap off a full day of celebrations in Nobleton, Ont. on May 18. The day begins with a parade at 11 a.m., followed by entertainment and activities lasting from noon until dusk. The fireworks themselves begin at dusk.
Like Us On Facebook

Follow Us On Twitter

ALSO ON HUFFPOST:
Best Canadian Cities For New Year's Eve Fireworks