Just how mad are Albertans at Jim Prentice?
The answer is pretty darn mad.
The outgoing Alberta premier announced he would leave politics last night, shortly after it became clear his Progressive Conservatives would lose the Alberta election to the NDP.
He also decided to hang up his MLA hat, despite a victory in his Calgary-Foothills riding.
"The voters are always right in our democracy," he conceded, adding he would now devote more time to his family.
The news, however, did not sit well with voters, many of whom were initially upset with his decision to call the $28 million election a year ahead of schedule.
Shortly after his announcement to step down, people in his riding called Prentice a "quitter", "pouter", and "baby," reported 770 News.
Twitter users also had a few words for Prentice's choice to resign:

Prentice tonight #ABVote pic.twitter.com/Q0akZQjA1v

— Simon Tracey (@CanuckMackem) May 6, 2015
"You can't fire me because I quit." Prentice #abvote

— Transient Lord (@doug_organ) May 6, 2015
what a fraud! Prentice asks people for their vote in Calgary Foothills - he wins the seat and then quits - the people got it right #abpoli

— Sue Kelland-Dyer (@hydroqueen) May 6, 2015
Who needs sex education when you have the Prentice plan: pull out as fast as you can. #abvote #NotleyCrew

— Will Q (@wquarton) May 6, 2015
I bet Prentice isn't looking in the mirror today. But he's right about 1 thing, Math is Hard. He miscalculated this election #abvote #abpoli

— Riley Brinkman (@apollorising) May 6, 2015
Jim Prentice deciding to take his ball and go home without playing anymore tells everybody in Alberta you were right in booting the PC.

— Terry Jones (@sunterryjones) May 6, 2015
Also: Prentice immediately resigning the MLA seat he won is fairly indicative of how much he actually gave a shit about any of this.

— Dan Tencer (@dantencer) May 6, 2015
BTW: looking at overnight Alberta news, Prentice's "thanks for electing me, but you can shove it" to his riding was the perfect endnote. /1

— Brian F. Kelcey (@stateofthecity) May 6, 2015
Many were upset about the additional cost a byelection will bring:

After saddling Alberta with cost of unnecessary election, Jim Prentice resigns, saddling province with cost of unnecessary by-election.

— CC (@canadiancynic) May 6, 2015
Prentice's gift to voters who elected him only minutes b 4 was to quit, ensuring Albertans would be paying for a byelection in short order

— Jennifer Dunham (@Wetaskijen) May 6, 2015
So Prentice's last act as premier is to dump the cost of another by-election on taxpayers. Well done!

— Brice Davidson (@BriceDavidson) May 6, 2015
Jim Prentice's final act as Premier is to stick Albertans with the bill for a by-election as he runs for door. #abvote #abvote2015

— Kathleen Smith (@KikkiPlanet) May 6, 2015
Others pointed out past transgressions of the PC party:

So in honour of Danielle Smith, Jim Prentice gets elected & quits on the few people who'd take a chance on him

— Gaspe Broken-Record (@GaspeBRreporter) May 6, 2015
So Alison Redford stayed on as an MLA longer than Jim Prentice after losing the premiership. Says a lot. #ableg #abvote

— Dan J. (@Edmontater) May 6, 2015
And some just thought it was a petty, classless move:

Prentice is the reason why people hate politicians. "I'm here to serve the people unless I don't get my why then I quit." #abvote

— Ahmed Assaf (@AhmedtheBanker) May 6, 2015
Jim Prentice wins his seat and immediately give it up. He's too good to be a lowly MLA. His fellow PC MLAs must feel betrayed. #abvote

— Mike Morrison (@mikesbloggity) May 6, 2015
Prentice's decision to quit seems disrespectful & petty. If I can't set the rules, I don't want to play. #characterFlaw #abvote

— Sue Huff (@suehuff) May 6, 2015
There's no "I" in team, but there is in Prentice. #abvote

— Lei (@LeiGry) May 6, 2015
Prentice instantly quitting his seat last night basically sums up what was wrong with his attitude the whole campaign. #abvote

— Chris Gallaway (@chris_gallaway) May 6, 2015
Jim Prentice resigning after winning his seat shows the kind of person he really is. Glad he's gone. #abvote

— Jason Burns (@jfburns1972) May 6, 2015
This probably sums it up best:

The tone of tweets around Prentice were all fairly positive and understanding until he resigned - Twitter don't like no quitters. #abvote

— Steve Ladurantaye (@sladurantaye) May 6, 2015
Jim Prentice was in power for 233 days. But it will take Albertans a lot longer to forget how he quit.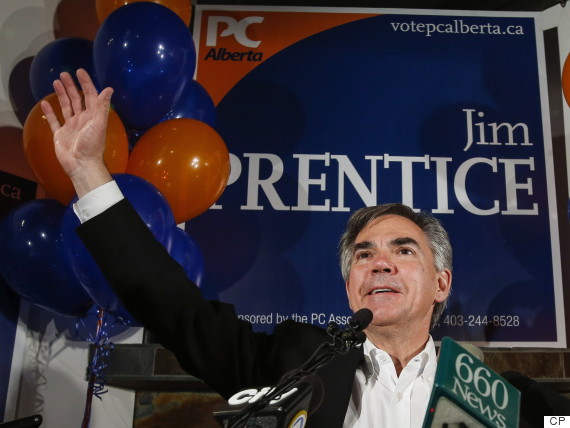 Like Us On Facebook

Follow Us On Twitter
ALSO ON HUFFPOST:
Alberta Election Day 2015