Fitch has a warning for Ontario's housing market.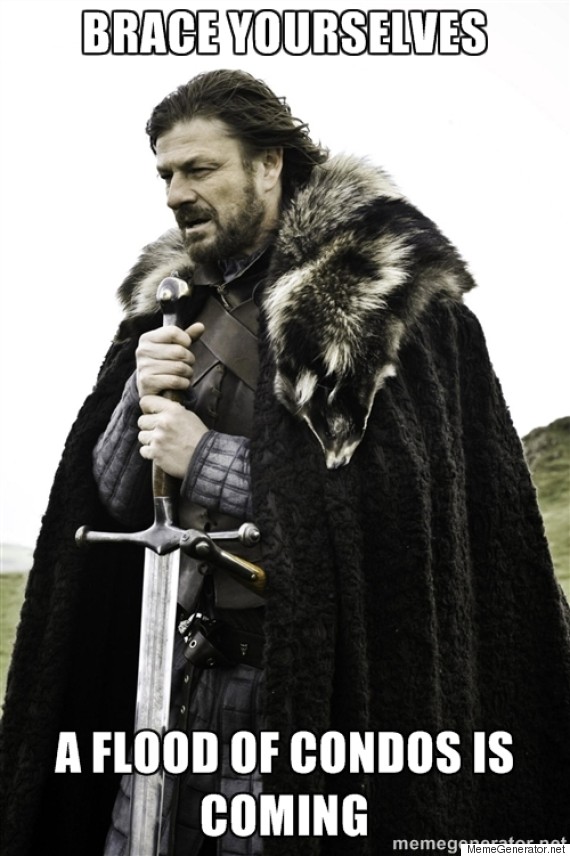 Real estate prices are facing pressures from an oncoming glut of condominiums that have yet to be completed, the New York-based ratings agency said Wednesday.
A record high of over 80,000 new multifamily units are currently under construction in the province, most of them in Toronto.
That's 50 per cent more units than were being built over four years ago, when condo construction started booming.
And while housing starts have fallen, the number of units still to come means that home prices could flatten more than they already have.
"With price levels relatively flat over the last six months, the significant boost to supply implied by this construction overhang could present a problem for continued price growth, with the market potentially becoming oversaturated," Fitch said.
The risk of softening housing prices in Ontario, where Fitch considers homes overavlued by about 25 per cent, could have broader impacts on Canada's economy, it added.
Flattening prices could sap out any incentive to build more homes. And with less construction, there would be fewer construction jobs.
Home prices have jumped at a rate of 7.6 per cent every year, Fitch said.
But while the price growth has helped to create more jobs, it has also brought homes to levels at which people simply can't afford them in certain cities.
An infographic generated by Rentseeker in April showed that people who live in Toronto need an average household income of $126,530 just to afford an average-priced home.
Statistics Canada pegged Toronto's median household income at $71,210 in 2012.
Like Us On Facebook

Follow Us On Twitter

ALSO ON HUFFPOST:
Most Expensive Houses For Sale In Canada