Another day, another fashion controversy.
WWD reports the Advertising Standards Authority has officially banned an image from Miu Miu's spring 2015 campaign in the U.K. due to a complaint regarding the ad (shot by Steven Meisel). The photo in question is one featuring actress Mia Goth, who the complainant claims looks too young.
However, Goth is actually 22 (21 when the ad was shot), making her of legal age. But despite that fact, the ASA states the photos appear to "show a child dressed as an adult in a sexually suggestive pose."
In the ad, Goth is seen lounging on a bed with crumpled sheets while dressed in a ruffled crop top and pants. We see her through the space of a partially opened door, as if someone is looking in -- a prime example of "the gaze."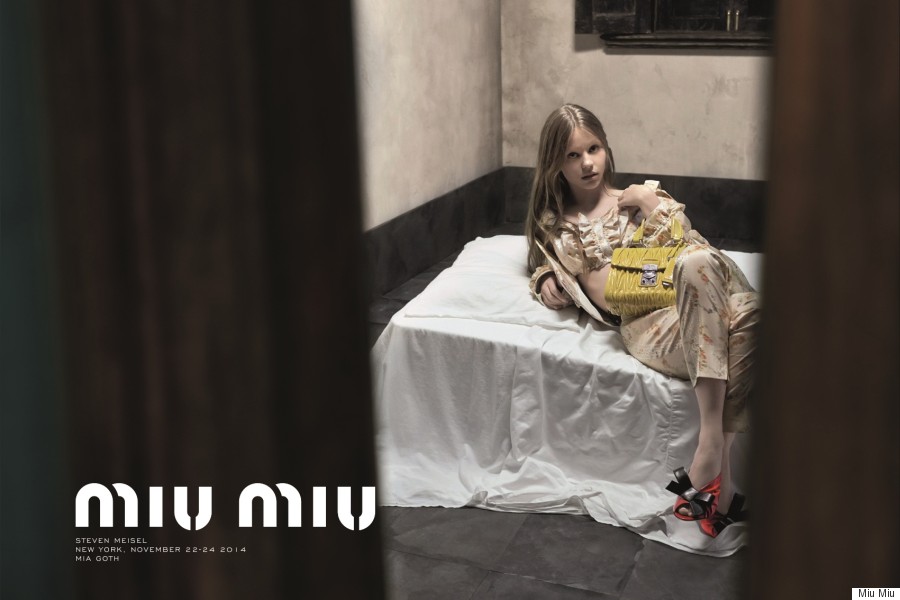 The organization claims the combination of her outfit, bare-faced beauty look and her position on the unmade be give the illusion that she's under 16. Prada, however, denied showing the model in a suggestive pose.
"We considered that her youthful appearance, in conjunction with the setting and pose, could give the impression that the ad presented a child in a sexualized way," the ASA said.
They ruled the ad cannot appear in the U.K. media again in its current form and told Prada to ensure future ads do not include "inappropriately sexualized young women."
Miu Miu designer Miuccia Prada is no stranger to controversy. When her fall 2015 collection debuted in Milan, she came under fire for casting 14-year-old Dutch model Roos Abels in her show. Many thought Abels was too young to be walking the catwalk, and argued that she should, instead, be in school.
The designer also cast a 14-year-old Hailee Steinfeld in a Miu Miu ad campaign back in 2011, which was subsequently deemed by the ASA as "irresponsible" for suggesting youth suicide. And you might remember that time Lindsey Wixson posed for the Italian label at the age of 15, again, sparking some controversy.
The ruling regarding Goth's ads is quite similar to that of the American Apparel "upskirt" ads, which were banned by the ASA for a similar reason. However, in a statement, American Apparel said both models in the campaign were over 18.
So, we want to know: Considering she isn't underage and the ruling was based on one complaint, does the ruling seem a extreme? Or is it totally acceptable? Let us know below!
See more controversial ads here:
Controversial Celebrity Ads
Follow Huffington Post Canada Style on Pinterest, Facebook and Twitter!