Prince Harry spent the morning saying goodbye to well-wishers in Australia, including one fan who surprised the prince with a kiss.
In front of the Sydney Opera House on Thursday morning, thousands of fans arrived to bid the prince adieu. And while many held out signs proposing to the prince, only one brave woman actually said the words to his face.
Carrying a sign that read, "Marry Me Prince Harry (Last Chance)," Victoria McRae stood confidently in front of the prince as she confessed this is the third and final time she will propose to him.
As the prince pondered her proposal, McRae suggested a kiss on the cheek instead. But when the prince leaned in, McRae made the split decision to plant one on his lips instead. This isn't the first time the prince has been proposed to, reports BBC News, and it probably isn't the first kiss from a fan either, but either way, you have to admire this fan's moxy.
Watch the video above to see the full exchange between the eager fan and the popular prince.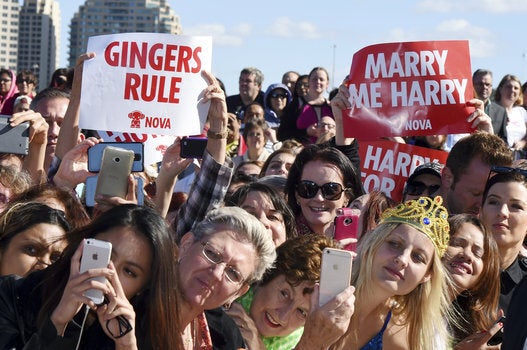 Prince Harry In Australia