These days, I'm all about the crazy beauty treatments.
I, like many women (and men), am on a constant quest for perfect skin. Call it an addiction, if you will. Ever since my skin cleared up from a horrible three-month inflammation phase, I've been obsessed with keeping it happy and healthy. So, when I heard about a facial that would give me celeb-worthy skin, I knew I had to try it out.
The "Rezenerate Wand treatment" uses a non-invasive handheld tool to deliver nutrients to your skin without any pain or discomfort. The wand has a silicon chip, which uses nanotechnology and microscopic, high-grade silicon pyramids to diminish puffy eyes, dark spots and wrinkles. The treatment requires no down time (meaning you can literally just get up and go once you're done without waiting for redness to subside). Following the wand, a 24k gold collagen mask is used for an "instant youthful glow."
But enough of the scientific stuff, let's get down to the nitty gritty details.
As a woman who's never had a real facial (yes, I've had a vajacial before a facial), I was excited and of course, scared. But if anyone was going to touch my skin, it was Victoria Radford, celebrity makeup artist and owner of RADFORD studio in Toronto (the exclusive Canadian distributor of this treatment.)
The atmosphere of Radford's studio was modern, serene and peaceful, and her positive energy was contagious. She walked me through every step of the treatment so I'd feel comfortable and know what was going on, something I very much appreciated as a facial newbie.
Like Radford said, the wand treatment wasn't painful. It was, however, a little bit ticklish and left my skin feeling tingly, especially in the forehead area. A cooling balm was put on my face afterwards to ease the sensation.
Then came the part I was most looking forward to -- the 24k gold mask. The mask itself is actually gold in colour, which made for a really cool Snapchat and photo-opp. But it also felt luxurious on my skin, and really relaxing.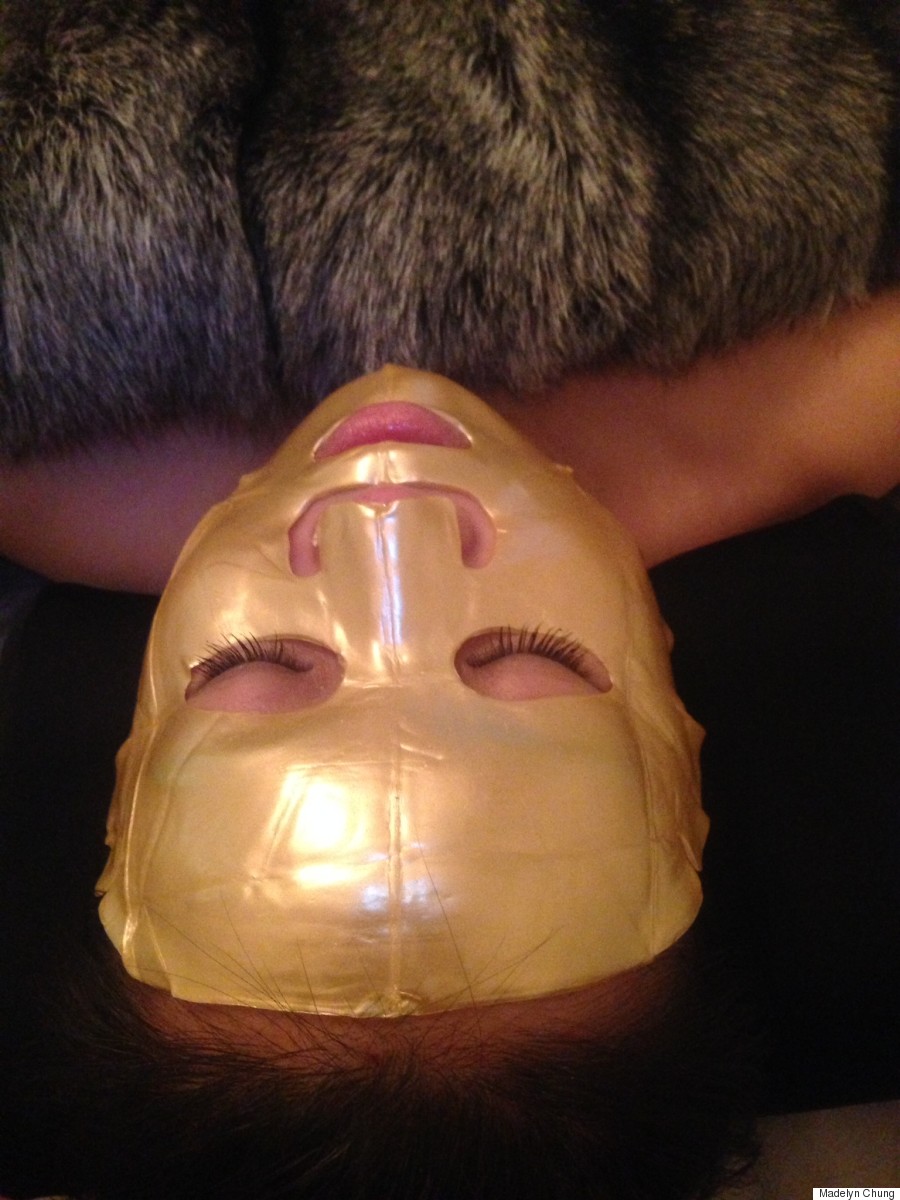 After removing the mask, my skin was glistening. Literally. I felt like Edward Cullen in "Twilight." But rather than have a rough touch, like diamonds, it was smoother than it had been in months. Victoria advised me to apply some of her specially formulated balm that evening, and to continue for the next few days.
Over the course of the week, my skin felt soft and plump. The treatment did make my nose peel slightly (almost like it would after a sunburn), but with some exfoliation and intense hydration it cleared up pretty quickly.
So is the Rezenerate facial worth it? I'd say it's definitely worth a try. Since I only received one treatment, it's difficult to tell what the long-term effects will be on my skin. But if you're looking for a pain-free cosmetic alternative to harsh treatments and procedures, this may be the facial for you.
The Rezenerate Facial costs $100 and is available at Radford Studio in Yorkville. Check out victoriaradford.com for more details.
Follow Huffington Post Canada Style on Pinterest, Facebook and Twitter!
Also on HuffPost
Seriously Weird Beauty Treatments