Being a mom really helped Marisa Miller empathize with the whales held captive at SeaWorld.
The pregnant ex-Victoria's Secret angel appears naked in an ad for PETA that pushes for a boycott of the marine theme park company, which keeps captive orcas.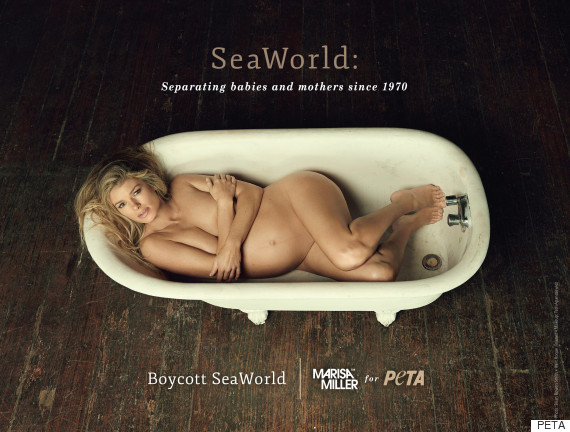 Miller said in a YouTube video that seeing the documentary "Blackfish" was "extremely emotional" for her as a mom.
"One of the most intense parts of watching that movie was how these mothers and babies are separated," she said. "I don't think that people understand that orcas' emotional capacity is huge."
Miller's naked photo in a bathtub is meant to draw attention to the conditions that orcas live in at the company's facilities.
SeaWorld, however, has hit back at allegations that it separates mothers and calves.
It told The Huffington Post in an email: "Contrary to what you see in PETA's campaign, SeaWorld understands the importance of keeping killer whale mothers and their dependent calves together. Mothers provide support and nutrition and we do not and would not interfere with that, unless the mother or calf's life was in danger."
The ad nevertheless comes at a time that both SeaWorld and Niagara Falls' Marineland are facing strong criticism over how whales are treated at their facilities.
The Government of Ontario has introduced legislation that would amend an existing act and introduce fines of up to $60,000 and a two-year prison sentence for breeding, buying or selling killer whales upon first conviction.
The amendment would still allow Marineland to operate as normal, but the park also wouldn't be able to bring any more orcas into the province or breed them at the facility.
Marineland has Kiska, Canada's only captive killer whale, at its park.
Like Us On Facebook

Follow Us On Twitter

ALSO ON HUFFPOST: