Former House of Commons sergeant-at-arms Kevin Vickers opened up Monday about the intense emotion he experienced in the aftermath of his confrontation with a gunman in a hallway on Parliament Hill last October.
Vickers, who was being presented with an honorary degree from Mount Allison University in Sackville, N.B., told the audience he woke up crying at 5:30 a.m. the day after the shooting.
"It was the loneliest moment of my life," he said.
Vickers ended up fatally shooting the gunman, who had earlier killed a ceremonial guard at the War Memorial and shot a constable at the Peace Tower entrance.
He told the graduating class about how he was "instantly enamoured" with Parliament Hill when he went for a job interview to be the director of security for the House of Commons and saw a father and son playing Frisbee on the lawn.
"I wanted to protect it, I wanted to keep it safe from harm," he said. "Luckily for me, fortunately, I got the job."
A year later, he was selected to be the sergeant-at-arms.
He describes the events that took place on Oct. 22, 2014, as a "tragic, tragic day."
During the attack, Vickers found himself on one side of a pillar and the gunman, on the other side — so close, "there was a moment where I thought I'd just reach out and grab the gun," he said.
But the gunman fired, so he dove through the air, landing on the floor beneath him.
"I bumped up against a moment in history," he said.
Vickers, the new Canadian ambassador to Ireland, dedicated his speech to mothers.
He says his own mother insisted he come home to Miramichi after his act of heroism on Parliament Hill. She called him three times before he finally relented and hopped in his truck, he said.
It was during the overnight drive that he thought of his father, who had taught him that "regardless how repulsive the crime, you always respect the dignity of the person," that he decided he should pray for the gunman, he said.
Vickers immediately arranged for the local priest to say a mass at his family home, during which his mother prayed for the mother of Cpl. Nathan Cirillo, who was killed standing sentry at the National War Memorial, and the mother of Michael Zehaf-Bibeau, who gunned down the soldier.
It was there, at that mass, surrounded by his extended family, that Vickers also said a prayer for Zehaf-Bibeau.
"It kind of occurred to me that [Jesus], after he was crucified, the first person he let into the kingdom of heaven was the man crucified next to him — a convicted criminal," he said.
After the mass, he thought about "just how important mothers are."
"I was OK now, and it was all thanks to Mom," he said. "She knew it wasn't they, my children, that needed me home. It was Kevin who needed to be home."
"So I just want to stress to you the importance of mothers, because class, you're going to have your October 22nd — and you just always remember that your mother is there who loves you, who will protect you, always stand with you."
An honorary degree was also awarded to Acadian author France Daigle on Monday.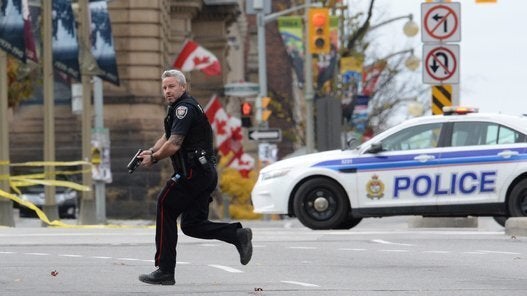 In Photos: Ottawa Shooting