A lighthouse has replaced the image of two people relaxing in P.E.I. on the province's tourism guide after one of them appeared to be sporting an erection
The guide featured a picture of a man and woman sitting on a beach. She was reading, he was just lying back and soaking in the rays.
But it's clear in the photo that the man was sporting a sizable growth in his crotch area.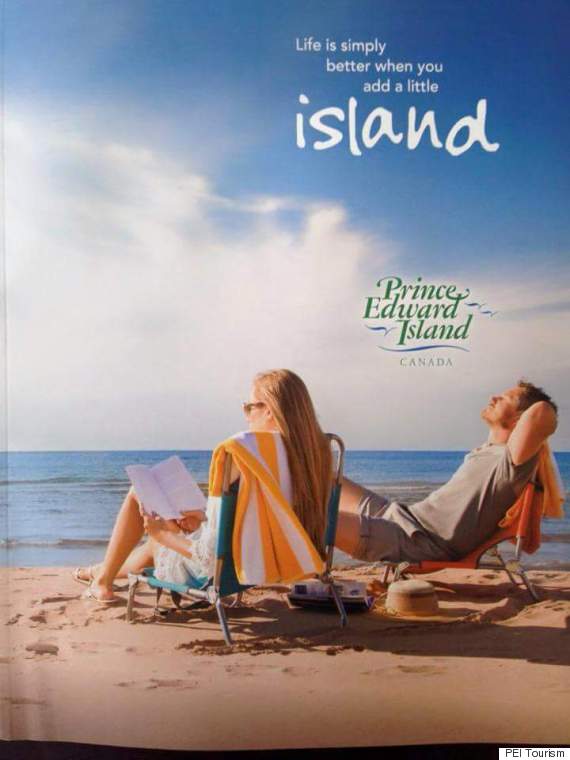 Charlottetown's Guardian newspaper queried people about the cover and many didn't notice until they were told about it.
One woman started laughing as soon as it was pointed out to her, saying, "Is that what I think it is?"
P.E.I.'s Department of Tourism and Culture did not comment on the cover.
But The National Post reported that it has been replaced with an image of a lighthouse.
Indeed, that's what appears when you download the guide from Tourism P.E.I.'s website.
The picture was noticed — and mocked — by plenty of social media users.
pei tourism ads prove that pei is indeed an exciting place, at least for this guy #DontLookDown #comeplayonhisisland pic.twitter.com/gNIPbOLcyw

— Jessica Gauthier (@themommagoat) May 7, 2015
This is our PEI tourism guide cover. Tell me if you can spot the problem! :-) Hint, the guy is really happy. :-) pic.twitter.com/46NxCzWr20

— Eddie (@hutch1717) May 10, 2015
That promo picture for PEI Tourism is misleading, being Majorly Horned Up On PEI is a lot less fun than they let on

— One Great Guy (@flattery_sucks) May 11, 2015
Twitter user Brian McKechnie noted that the tourism guide's photo reminded him of the time an IKEA catalogue had a picture of a dog that appeared to be aroused.
Adweek reported IKEA saying that the picture simply showed the dog's leg.
Like Us On Facebook

Follow Us On Twitter

ALSO ON HUFFPOST:
Prince Edward Island Wedding