The B.C. woman who gave birth on an international Air Canada flight this weekend had no idea she was pregnant.
Ada Guan, 23, and her boyfriend, Wesley Branch, were en route from Calgary to Tokyo when she went into labour as the plane flew over the Pacific Ocean, reported The Japan Times.
Three doctors who happened to be on board helped deliver the baby girl named Chloe, according to CBC News.
Guan and Branch, who live in Victoria, B.C., have been dating for about a year but had no clue she was expecting. Branch told Global News that his girlfriend took a pregnancy test a few months ago after she gained some weight, but it came back negative.
Guan was having stomach pains during the flight, then turned to her boyfriend and said, "Something fell out of me," Branch's mother, Sandra, told Global from her Penticton home.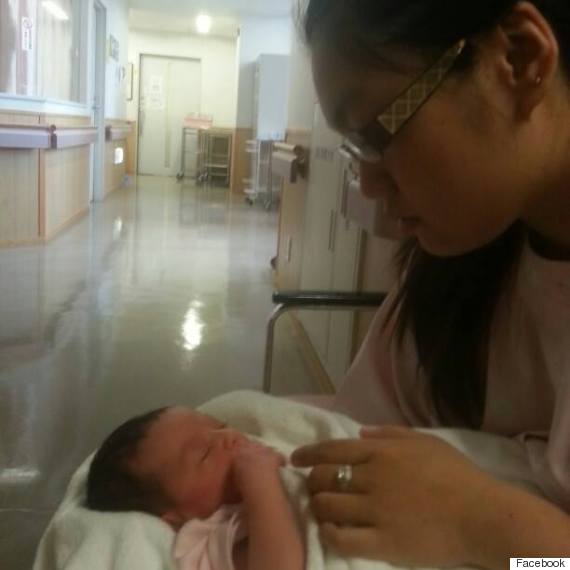 Ada Guan delivered her baby girl with the help of three doctors on the flight.
Japanese media greeted the new family as they got off the plane at Narita airport. Guan was transported on a stretcher, while Branch — wearing a Vancouver Canucks cap and holding his daughter — waved to the cameras.
"This just happened completely unexpectedly," Branch told reporters. "It turned out we have a little baby, beautiful girl."
Mom and baby — born at 37 weeks — are reportedly in good health.
Like Us On Facebook

Follow Us On Twitter
Also on HuffPost
Moms' First Photos With New Babies