Last week, Isaac Michael Hall was delivered via C-section at West Penn Hospital. He is the largest baby the hospital has delivered in the past 30 years and can already fit into six-month-old baby clothes.
"We have never seen a baby of this size," Dr. Andrew Sword told CBS. "And when I polled all the pediatricians from this hospital, some of whom date back to the early 1980s, there's never been a baby on record who's this size."
According to the Daily Mail, Isaac is five pounds heavier and almost seven inches longer than the average newborn. But while the newborn's size is remarkable, mom Michelle Hall told WTAE that she always knew he'd be a big baby.
"I always said we were nine months pregnant for the last three months," she joked.
Isaac's father Brad, on the other hand, was far more surprised. The new dad, who is over six feet tall, told Fox News: "It was a little hard to believe at first."
Usually, babies who are born this big have underlying health problems. However, in Isaac's case, he was born with no medical issues and is perfectly healthy.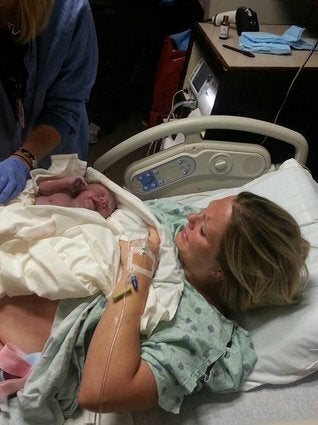 Moms' First Photos With New Babies