A social media firestorm touched off by a female TV reporter who fought back against sexually explicit taunts hurled by soccer fans has also cost one Toronto engineer his job.
Ontario's largest electricity provider, Hydro One, issued a statement late Tuesday saying it has terminated one of its employees in connection with the incident Sunday at a Toronto FC game, which was captured on video.
In that video, CityNews reporter Shauna Hunt questioned a group of men who admitted they planned to yell the phrase "f*** her right in the p****" into her microphone after a man beside them did so. She spoke directly to two of them.
Hydro One did not name the employee, but tips on social media had previously identified him as Shawn Simoes. A LinkedIn profile of a man by that name lists him as an assistant network management engineer with the company. Simoes did not respond to a request for comment.
Several social media posts also named the second individual, saying he worked for Cognex Corporation. A company spokeswoman said the views expressed in the video were "reprehensible" and inconsistent with Cognex's values."We cannot comment on employee matters publicly, but we take this issue seriously and will be addressing it," Sarah Laskowski said in a statement.
Hunt said her confrontation, which triggered a flood of social media support and even praise from a provincial premier, came about after almost a year of nearly constant harassment.
"I hit my limit and I had to push back,'' Hunt said in a telephone interview. "I wasn't going to stand for it anymore. It was time to say something.''
Instead of ignoring the remark and moving on, Hunt confronted the group of men who stood behind her, asking if they'd waited behind her just to say the phrase.
While one of the men agreed that it was rude, Simoes, another one of his friends, told Hunt, "I don't care, it's f**kin' hilarious... You're lucky there's not a f**kin' vibrator in your ear like in England."
Maple Leaf Sports and Entertainment, which owns Toronto FC, said in a statement that if the fans were identified, they would be banned from its facilities.
"We're appalled that this trend of disrespectful behaviour would make its way to our city, let alone anywhere near our stadium," said the statement.
The men could also face criminal charges.
"So far none of the reporters want charges laid," Const. Victor Kwong from Toronto Police told the Toronto Star, but he said that they "absolutely" could file a report.
Several of CityNews' reporters have had to deal with it, and told the network that perpetrators aren't always men and that male reporters are also being targeted.
"For my female colleagues and female reporters and journalists across North America, it's sexual harassment and it's disgusting and needs to stop," said Adrian Ghobrial.
Ontario Premier Kathleen Wynne also weighed in on Twitter, cheering Hunt for speaking out.
With files from the Canadian Press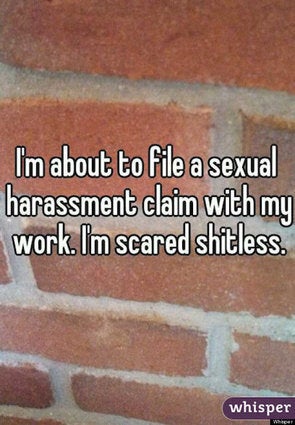 Women Who Reported Sexual Harassment