Julian Stratenschulte/DPA
Edmonton kids aspiring to be the next Ariel are going to have to keep using their imaginations, for now.
In a bid to keep kids safe in the water, city pools have banned a swimming toy designed to look like a mermaid tail.
The fabric toy, which slips over both legs, is growing in popularity, but members of the Alberta Association of Recreation Facility Personnel raised concerns about its safety at last month's conference, in Banff, reports CBC News.
This YouTube video demonstrates how the fin works:
Rob Campbell, supervisor of aquatic recreation for the City of Edmonton, told the Edmonton Journal that an outright ban is necessary for now, while they determine how to judge a swimmer's ability while wearing the fin.
"If you black out in a pool, you're going to drown. That's the biggest problem with it," he said, explaining one concern lies with swimmers who might try to stay underwater too long, in order to swim like an fish.
Also, he told Metro Edmonton, is the concern that the tail restricts movement of the legs separately, and an "inability for a swimmer to support themselves in the water can make it dangerous as they may grab onto another swimmer near them for assistance."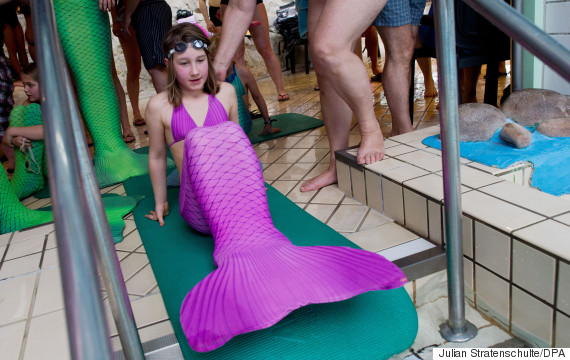 (A girl with mermaid flippers gets into the water for a swimming class in Hildesheim,Germany, Feb. 21, 2015. Julian Stratenschulte/DPA)
Campbell said there might be room for mermaid tails at Edmonton pools in the future, under the right supervision, and his staff is still working on those details.
Meanwhile, the City of Calgary will allow the fins at public pools, but told CBC News aspiring little mermaids must to prove their ability before they can wear the toy. The test includes swimming for a continuous 25 meters, treading water for two minutes, and swimming with confidence while wearing the fin.
ALSO ON HUFFPOST: